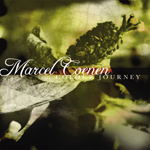 Marcel Coenen

'Colour Journey'

  © 2005 Lion Music

       Pink Lizard

'Rock n' Roll Injection'

  © 2005 Pink Lizard Music

Reviewed by Dave Palmer

I now have a few albums under my album that feature Marcel Coenen and I definitely like most of what I have heard. The latest offering is a solo effort. You might expect this to be an all instrumental venture, but in fact is not. Coenen has recruited some help from vocalists such as Mike Andersson from Cloudscape and Colleen Grey from Persephone's Dream to mention just a few. Along with the variety of singers brings a variety of styles and that's really what makes this album. Coenen offers up so many different sounds from the pure power rock of 'Waiting' to the more flashy 'Abstract Impact' to the lighter more melodic sounds of 'La Bella Mira'. It doesn't stop there either. It gets even heavier with the modern metal tune 'Traumatized to the Bone'. Vocally, the grunts and aggression are included. 'Skill Factor' offers up a bit of a funk fusion sound. I think this album showcases Coenen as a songwriter as much as it does a guitarist. There is a balance that keeps the album in check from going to far one way or another. While there are a few instrumentals, there are also a decent number of vocal tracks as well which will appeal to that more finicky crowd who need lyrical content. There will be alot to offer different crowds and tastes here. It's that typical Marcel Coenen quality I've come to expect.

Overall

A decent release from Marcel Coenen. Not a complete instrumental release, but a good balance of vocal driven material here as well. The finesse and technical ability are definitely evident here, but not overpowering. The music stands out more as a compostion with there being great variety. There are very heavy numbers as well as light with a few different things in between. Coenen gets it done once again!

Questions or Comments? Email Dave by clicking
here
.
Reviewed by Dave Palmer

'Rock n' Roll Injection' is a 4 track ep from the Italian hard rock band Pink Lizard. This is old school rock and roll. While we tend to be more experimental in the domestic market and this style of hard rock has been largely been abandoned on a larger scale, it seems to do well in other markets around the globe. That's a good thing because that is where my heart is. I like many different styles of metal, but the rock I sank my teeth into back in the 80's is what I like best and that is where the sound of Pink Lizard is, at least to my ears. The first track and the title tune 'R n' R Injection' is a straigh forward rocker and is also available at the bands website in a WMV format video. 'Dress Yourself' follows im much of the same fashion. An attitude injected rocker. 'Insomnia' keeps consistent with the bands sound. The final track 'No Where Run' is probably my favorite of the four tracks. I like the driving guitar sound and attitude that pushes the song along.  I think that as far as the bands writing goes, it definitely shows consistency. It would be interesting to hear a complete album. Maybe down the road.

Overall

It may not be long, but it gets the job done effectively. You get a feel for what this band sounds like and it may even wet your appetite for more. I think that you'll have to keep your eyes on this band down the road. Not sure if there will be distribution here in the U.S. any time soon, but I like the sounds I hear on this release. Good old school stuff!

Questions or Comments? Email Dave by clicking
here
.