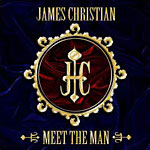 James Christian

    'Meet the Man'

© 2005 Frontiers Records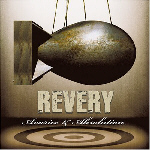 Revery

'Avarice & Absolution'

  © 2005 EVO Recordings

Reviewed by Dave Palmer

Most are gonna be familiar with James Christian due to his presence in the 80's hard rock band House of Lords. I was definitely a fan of the band back in the day, but can't honestly say I have heard anything recently. Going into this album, I guess I would expect some good melodic hard rock due to his past. That is exactly what you get with Christian's latest solo effort 'Meet the Man'. The album is all about... well, James Christian. It's also all about well crafted songs that are what you would expect from Christian, but also the Frontiers label. There are rockers and ballads on the album, all sounding very good. Almost like you took a trip back in time. Word has it that some of these tunes have actually surfaced in the past so some of this may not be totally new, but for me it was all new. There were some songwriting collaborations on the album that give way to why there is a good overall sound to the record.  From a production standpoint, Fabrizio Grossi who also worked on another of my favorite melodic releases of this year, From the Inside, worked on this album as well. As far as songwriters, Lanny Cordola and Chuck Wright made contributions as did the late Judithe Randall and Stan Bush. Everything seems to be set for a winning formula for this record to succeed. I think it does. There are good songs and there are great songs. As far as the really good stuff, I would include tracks such as 'Know You in the Dark' which has a very memorable sound to it. It'll grab you on the first listen. I also really liked the ballad tune 'Surrender Your love'. this tune would've been a big hit back in the days of popular hard rock. I liked the intensity of the title track 'Meet the Man'. Nice chunky guitar work, but never loses the melodic edge. 'Hold Back the Night' is really cool too and closes the album on an atmospheric note. The rest of the album is pretty good with really no filler to be found.

Overall

Didn't know what to expect, but came away pretty satisfied. My largest exposure to Christian's work was through House of Lords. Not real different from that band, but this album does carry a bit of it's own identity. Production is nice thanks to Fabrizio Grossi who also worked with Danny Vaughn and From the Inside. If it's melodic hard rock with a familiar feel to it you are looking for, then come meet the man!

Questions or Comments? Email Dave by clicking
here
.
Reviewed by Dave Palmer

You know, sometimes things go in circles in the music business. You know what they say. Then there are things that just sucker punch you straight back about 10 or 12 years. Revery to me are on of those instances. Upon listening to the bands debut album 'Avarice & Absolution', thoughts or earlier Stone Temple Pilots came to mind pretty quickly. I'm talking the 'Core' era. I was not a huge fan of STP after their album 'Core', but did really like the energy that 'Core' put forth. Revery's debut definitely gives you the same type of energy. As far as flash goes, you could also mention the music of Velvet Revolver when mentioning similarities. Intentional? Who knows and who really cares. We're all really starved for some really good domestic hard rock and Revery delivers it up in style. I really like the bands choice for first single with the track 'Popstar Wedding'. Evidently, it is making a bit of noise as it should. If I was to pick a favorite track, I would go with 'August'. This tune has over the top vocal work and alot of attitude throughout the song. It's one of the more fun songs on the album in my own opinion. From a tempo standpoint, the album is pretty consistent. It's heavy for most of the ride, but there are also some more laid back tunes. These include '3 Weeks' and Secondhand Redemption' and 'Penelope'. There is a little punch to them, but they are bit lighter than the typical on the album. With the rockers, I also really liked 'In the Way She', The opening track 'Look at What You've Done', 'Walk the World' with it's very cool groove, 'The Truth' and 'Which Way to Sunday'. For the younger fans, if you are into more modern bands such as Shinedown or Nickleback, this album will fit fairly well in my opinion. The band carries alot of energy and is looking to make much more if only given the opportunity.

Overall

I like Revery. Had never heard of them, but the band has a familiar feel to them which will help carry them with new fans. I think they are definitely worth keeping an eye on. If the band progressively keeps getting better, they probably could be a contender because I think their delivery is better than quite a few of the modern acts on the circuit today. I think this one is definitely worth your time to check out. Go to the bands website for a few sound samples, you'll be glad you did!

Questions or Comments? Email Dave by clicking
here
.