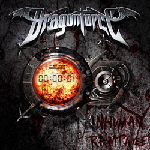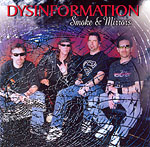 Dragonforce

    'Inhuman Rampage'

© 2005 Sanctuary/Noise Records

  Dysinformation

'Smoke & Mirrors'

© 2005 Masonic Records



Reviewed by Dave Palmer

Now here's a band I should have heard of long before now. Being a fan of melodic speed metal, I should have searched these guys out. Let me give you the reasons why. This band is absolutely explosive. Dragonforce is one of the fastest bands I have heard that also inject a very intense amount of melody at the same time. Melodic speed metal times four I like to think. I can't really compare the bands latest release with their previous two (at least as far as I know it's two) as I haven't heard them yet. I say yet because this album made enough of an impression on me to definitely seek out the back catalog of the band. Musically, the band is similar to their melodic speed metal counterparts such as Stratovarius, Sonata Arctica, and bands like that although as I mentioned, they are significantly faster in tempo. The band is English and is grabbing a fairly decent fanbase in other markets around the world, but unfortunately haven't made their mark on our shores yet. I hope that changes soon. The band recently played their first American gig in New York. I think that the band would be very over the top and energetic, so I hope this album takes off. The album musically is very consistent. If I was to find anything at all that could hurt them, it would be this consistency. The band keep that same quick tempo through the majority of the album. I think this will bode well for most fans, but for the more finicky, they make take a bit of exception to this. There is one track, the album closer 'Trail of Broken Hearts', that slows the album way down and shows that the band is indeed capable of other tempos which should be obvious anyway. They really do exhibit both extremes. I also think the choice of 'Through the Fire and Flames' is an excellent choice as the bands introduction of this album to the fans. It should sell a lot of copies.

Overall

I really like this release. It is really fast but very melodic at the same time. Dragonforce is probably the fastest of the genre and will have great appeal to fans of the melodic speed metal sound. If you haven't heard these guys, go to the bands official link below as they have sound samples. I think most will be impressed by their sound. Great explosive stuff!

Questions or Comments? Email Dave by clicking
here
.
Reviewed by Dave Palmer

So what kind of a sound do you expect from a band that hails from the Pacific Northwest? Well, we had the large Grunge movement that really put that part of the country on the rock and roll map some 10 plus years ago. We also have other non-Grunge acts that are very good including Queensryche or Metal Church and many others. So where exactly does Dysinformation fit into this picture? Somewhere in between although they probably fit closer to the more classic Seattle sound. The band is heavy, but in a more traditional way. It's kind of odd in a way to hear a more traditional sounding hard rock band come out of this area of the country due to the fact that the Northwest has given us alot of different sounds. As far as this band goes, they sound decent. I think if they are given a larger budget, they can do good things with it. The sound is a bit thick with more modern sounding edge. But the underlying sound is good old fashioned hard rock and roll. An interesting note about this band as well. Apparently the band has a connection with none other than Robbie Knievel. They have been able to play at some of the same events that Knievel has been a part of which I found interesting. The band sounds confident in their material and songwriting ability. The album is a bit short at 33 minutes, but does seem to fill the need. The only track I wasn't as interested in was the cover of 'Born to be Wild', which although isn't a bad cover, I just find it boring after hearing it many, many times. Other than that, keep an eye on these guys, they seem to have it clicking, just need a bit more attention to be seen on a larger scale.

Overall

A decent effort from this Pacific Northwestern band. They have a sound that borrows from a few bands in Seattle's past, but not to the extent that they sound like any one of those bands that include pre-Grunge and Grunge era. The band seem to be confidant and well versed. They just need someone to get them to the next level. You never know. Keep an eye out for these guys down the road.

Questions or Comments? Email Dave by clicking
here
.