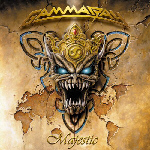 Gamma Ray

           'Majestic'

© 2005 Sanctuary/Noise Records

Reviewed by Dave Palmer

Gamma Ray has become one of the giants in the melodic speed metal genre. It's actually been awhile since we had some new studio stuff from the band. 'No World Order' hit the shelves in 2001 and  in between that record and the bands latest 'Majestic', we were treated to some remasters with updated artwork as well as a live album titled 'Skeletons in the Closet: Live'. I was really wondering what was going on with the band after a 4 year absence from a studio album. Just about that time I got word on the new album and waited with anticipation. The one thing that you can be sure of is that this band are going to not compromise their sound. I have found them to be one of the most consistent artists in the last decade in this genre. Whether you consider it good or bad, they keep it familiar. I wanted to comment on the artwork. I absolutely love this cover. I also liked the inner photography and the color schemes used. It is quite artistic.Gamma Ray has become a chip off of the old Iron Maiden block when it comes to artwork. Their covers are usually as fun as the music is. Speaking of the music, it is quite heavy as you would probably expect. With bands like this, I think the question isn't how heavy, but how accessible. Most of these bands are very heavy, but some are not as accessible meaning that the music either has to grow on you or maybe it never quite works at all. 'Majestic' works, not on a large level, but it works. Probably the one thing that you may question with this album is where there may be some new ideas. There really isn't a bunch. It's Gamma Ray through and through and they don't get away from their songwriting formula too much. It's fast and aggressive with some melody injected in to keep it interesting.

Overall

You pretty much know what to expect from Gamma Ray. There really hasn't been much change to their songwriting through the years. If you are looking for consistency, you are going to get it with this release. If you are looking for something new or revolutionary, you are going to have to keep looking. This album rocks and has alot of intensity to it as well as some cool artwork. If you are a fan of the band or even this genre, it will probably work for you.

Questions or Comments? Email Dave by clicking
here.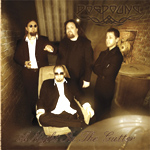 Dogpound

'A Night in the Gutter'

      © 2005 Lion Music

Reviewed by Dave Palmer

Lion Music rockers Dogpound return with their sophomore effort 'A Night in the Gutter'. Every time a listen to this band I keep coming back to the band Reckless from the late 80's. The vocals are similar and the hard rock has that familiar sound from that era of hard rock. The band have those great choruses that make a song memorable. Other times I would mention Mr. Big as there are some similarities there as well. I remember liking the bands debut effort. I think the band has grown since then and the natural progression is noticeable in the music on the latest album. I think that it can be very difficult to get noticed with the onslaught of bands in this day and age from all over the globe. I think this band is getting noticed and people are paying attention due to the melodic and consistent nature they deliver their music. The album opens with 'Captain Hook & Jesus' in a rocking nature. It continues this trend through quite a few songs including '5 Seconds Away', 'Still My Heart', and 'Not by Choice' which is one of the heaviest to this point from a tempo standpoint. We get our first melodic number with the tune 'Sail On'. This tune had me thinking Kings X to a point . It's a pretty good song and has those harmonies in the vocals that we hear from Kings X. Things once again become upbeat with 'In Another Lifetime' and 'Dreamworld'. This is where the band seems most comfortable to me and it just sounds great as well. The album really winds down with rocking tunes once again with only 'Worries of Yesterday slowing it down very much. This particular tune is very good and adds a bit of flute to the mix. I also liked the vibe of 'P.P.F.'. Great hooks and choruses on this track.

Overall

This release tends to be a bit tighter as is expected with a second effort from a band. There really is no disappointment here. There are great hooks, memorable choruses, and just overall good songwriting. The band are very comfortable with their hard rock sound that at times reminds me of a modern day Reckless. If you like your music infectious with a great deal of melody, this is a really good album to pick up.

Questions or Comments? Email Dave by clicking here.