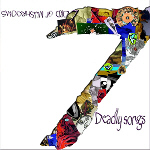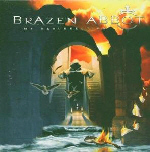 Lord of Mushrooms

  '7 Deadly Songs'

    © 2005 Lion Music

  Brazen Abbot

'My Resurrection'

© 2005 Frontiers Records

Reviewed by Dave Palmer

Now there's an interesting name for a band. Lord of Mushrooms. I can guarantee you that if you have not  heard this band, they are probably not what you think they might be. These guys are really solid progressive style metal. I think the interesting point to this album is the 7 deadly song theme. Sure there are more then 7 songs on it, 10 total actually, but it makes for a fun premise. The question right away would be who do they sound like, if anybody. Well, Dream Theater would come to mind due to the sophisticated musicianship and a little bit of the sound, but you also get a little of the sound that more modern Marillion has. It's really hard to totally nail it down though. The band have a solid sound that is not totally unique, but is very fresh and melodic. One of my favorites and a very good way to open this album is the track 'Pride'. This track is my case in point to what I mentioned as far as the bands sound goes. While the band moves around a bit in their sound, it all is similar and pretty consistent. I found it interesting that the 7 songs that are linked together had a feel that was unique, then you get to the over 3 additional tracks and they have the bands sound but sound out of the bubble from the rest. I found that to be pretty cool. This fact brought the 7 deadly songs together. Of the last 3 songs, 2 of them lean a bit lighter with the closer having slightly more edge. 'The Bewitching Air' and 'Paylee Conol' have a very smooth and memorable feel that add another dimension to the bands sound. Neither is overly sophisticated, just very melodic and solid. The other tune 'The Tempest' has that typical progressive flair to it. One of the things that I really like about the album and the 7 tunes in particular is the visual element. I like music that can leave you visualizing through the bands sound. The band does this quite well.

Overall

A release that will definitely have appeal to the progressive rock fans out there. This band is very good with a very fresh sound that has a lot of melody throughout. The '7 Deadly Songs' have a feel to them that is visual depending on the topic of the song at the time. Obviously based on the 7 deadly sins, the subject material was an interesting choice and made for some very good songs. Very good release from a very good band!

Questions or Comments? Email Dave by clicking
here
.
Reviewed by Dave Palmer

For some reason there are those bands that you hear alot of good about, but you never really check out. I had heard of Brazen Abbot before, but for some reason never really looked into them. The funny thing about it was that I had already been made familiar with Nikolo Kotzev with his 'Nostradamus' project album that was released a few years back. I haven't heard that release in awhile, but remember liking it. It left enough of an impression on me to remember those things. Well, now I have had the chance to check out his band Brazen Abbot which also features an impressive lineup of vocalists on 'My Resurrection' We have the Joe Lynn Turner who really needs no explanation, Tony Harnell who is one of my personal favorite singers, Göran Edman from Malmsteen fame, and Erik Mårtensson from Eclipse. Upon listening to this album, it is very noticeable that it has a pretty large sound. This is the result of using a full blown 31 piece orchestra. I always liked that element added in due to how rich of a sound that it adds. In alot of ways I think this album has a classic edge to it. Due to the keyboard usage and the guitar riffs, I was thinking there was a touch of Deep Purple in it. I can safely say that fans of that type of rock and probably going to dig this release. You might think that is due to the fact that Joe Lynn Turner handles some vocal duties and had for Deep Purple, but I feel it leans that direction more in the music. There are some pretty good rockers on the album including the opener and title track 'My Resurrection', 'God Forsaken', 'More than Money', 'Rage of Angels', and many others. You also get some more heartfelt sounding stuff like the melodic 'Dreams', 'The Shadows', and 'Shades of Grey' offer balance to the album. I wouldn't necessarily consider these songs ballads...just lighter.

Overall

This is my introduction to Brazen Abbot. The band has just gotten lost along the way until now, but I found them to be of high caliber with some catchy rocking tunes. Nikolo Kotzev is the brainchild of this band and has really put together a great cast including a 31 piece orchestra to give the album a full bodied rock sound. I found the release to be solid and worthy of my recommendation to fans who like it heavy with a bit of a classic rock sound.

Questions or Comments? Email Dave by clicking
here
.