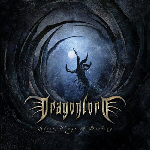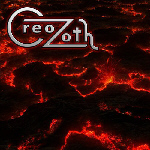 Dragonlord

'Black Wings of Destiny'

       © 2005 Escapi Music

    Creozoth

   'Creozoth'

© 2005 Escapi Music

Reviewed by Dave Palmer

Here is one for the heavy crowd out there. If you haven't heard this band or really know nothing about them, Eric Peterson might ring a bell. Eric is the longtime member of another famous thrash power metal outfit called Testament. In my opinion, intensity is the element that brings these two bands together, but sound-wise that are quite different. Dragonlord to me is on the upper spectrum of power metal with it sounding similar to hardcore in some ways, but there is also a bit more to their sound. The music almost has a Gothic like feel weaved in to make the sound a bit thicker which is cool. Vocally, the band is a bit aggressive for my taste, but I found plenty to like musically as you might imagine. The bands latest effort is available via the Escapi Music label. Recruited for the bands latest release was Derek Ramirez to fill in on bass. Fans will remember Ramirez for his work on Testament's 'Demonic' album. Or those who aren't aware Peterson handles vocals for this band as he is more known for his guitar playing in Testament. He has a very dark approach vocally, but at the same time provides clean vocals on the track 'Until the End'. I was surprised at how well he sings in the clean portions because he sounds very aggressive most of the time. Now to clear things up on the Gothic statement I made, I mean that from the sense that the music has that rich dark edge that Gothic is known for, but this band is classified more as Black Metal and they definitely earn that title. Probably the most surprising track on this album would be the album closer 'Emerald' originally penned by rock icons Thin Lizzy. The band does a good job, but it definitely sounds out of place.

Overall

Not too bad if you are into very aggressive metal. It may be a bit heavy for my own personal taste as I am a big Testament fan. That is where my interest for this band came from. It is interesting how this band has embraced a sound that is a bit more prominent in overseas markets, but for the style they play, they do it quite well.

Questions or Comments? Email Dave by clicking
here
.
Reviewed by Dave Palmer

Well I'm sure many of you are going to remember the band Candlemass. They made their mark on the scene in the past with their brand of doom metal. So if I mentioned Creozoth, you might have the same reaction I did. Who the hell is Creozoth? There is a link so lets get to it already. Candlemass lead guitarist Lars Johansson and drummer Jan Lindh are in this band. So what else is significant about Creozoth. Think Monty Python. Apparently there is a guy who eats so much that he explodes in a Monty Python movie and his name is Creozoth. Kinda funny I thought. Anyway, I was kind of surprised at how upbeat this album is when you consider the Candlemass connection. Nothing really doomy going on here in my opinion. The music is just really good heavy metal type stuff that has a bit of a catchy nature to it as well. As a matter of fact there is some decent melody in there as well, but remember that this is a heavy metal record. The album contains 13 tracks of what I like to think is very consistent metal music. As I always like to mention, if you like any of these tracks, you will probably like most of them. The question might be asked if the Candlemass fans will like it. I am guessing yes, due partly to loyalty, but also the fact that it's a good metal record. It may throw some however due to the roots that were mentioned as well as the name. It is also worth mentioning that Michael Storck handles vocal chores and Tobbe Moen offers the bass work. The band seem to jell well and delivery is good.

Overall

Not the doom style metal that Candlemass, but there are some chugging moments in some of the music. This band features former Candlemass members and is a bit upbeat in style, but very much heavy metal in nature. The music is pretty consistent meaning that it provides a listen that is free of pressing the next track button on your deck. If you are looking for something with a bit of a raw heavy sound to it, Creozoth is a good bet.

Questions or Comments? Email Dave by clicking
here
.