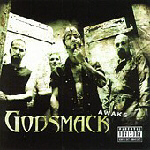 Godsmack-Awake

© 2000 Universal Records

Probably one of the bigger hard hitting releases of this year on U.S. shores would have to be Godsmack's sophmore effort 'Awake'. For many fans, the question is can the band match the debut effort??

I felt the first effort was decent. I was very well aware who Sully Erna was before Godsmack. Sully pounded the skins for Strip Mind in the early 90's. I actually caught them as opener for Lillian Axe and Accept on their tour. Well, Sully moved on to Godsmack and is also the lead vocalist. Ironically, Tommy from Lillian Axe now pounds the skins for Godsmack. Confused yet?? Probably not, but let's talk about the new album.

One thing that became very apparent to me was how heavy the band has become. The opening track 'Sick of Life' get's right to the point that this album is going to hit hard. The true gem of this album however is the title track 'Awake'.  This tune is very tight and packs one hell of a punch. Without a doubt my favorite track on this album. 'Greed' follows with good punch and songwriting. The album tends to level off into a slightly mid-tempo pace, not as heavy as the first 3 tracks, but still pretty cool. I really dig the tune 'Vampires'. Kind of an interesting take on the subject with media elements woven in.

All in all a very surprising effort from a decent band. The music is kind of a crossbreed between solid Metallica and Alice in Chains. With Sully being a drummer by trade, the songwriting on this album really carries a lot of crunch in the rhythm section. You can tell that Sully wrote this album from his perspective. It is very cool. If you have wondered about Godsmack, check this one out. It's a step back in the right direction for us metal starved fans.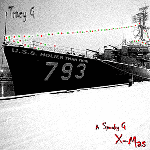 Tracy G-A Spooky G X-Mas

            © 2000 Spooky G Music

So you're ready for the Holidays. You want to get into the spirit of the season, but you can't take anymore of that elevator based tuneage. You'll choke somebody if you have to hear that Country twang crammed into 'Jingle Bells'. Well have I got just the thing for you. Tracy G has put together a collection of Christmas tunes that have his familiar taste to them. I do mean traditional too. I think you'll be surprised at even another side to this amazing musician.

The album opens with 'The Bells' which basically sounds like traditional music slammed together with the bass sound from the movie 'Halloween'. I'm not kidding. And guess what?? It works. Lot's of depth.

'What Child' also known as 'Green Sleeves' up next. Much slower tempo and fairly true. 'White X-Mas' is done very disciplined and well. This tune flows right along. I really like the 'Jingle Bell Blues'. Very bluesy guitar based version. If you dig the blues, you will dig this. You have to check out the depth displayed in '3 Kings'. Very thick sound. 'Hark' is one of the more upbeat funky style tunes on the album with it's percussion arrangement. Now here is an interesting move. 'Chuck Browns X-Mas' is one of the mellow arrangements and truly shows that Tracy G is multi dimensional as a musician and songwriter. Probably my favorite track on this album. 'Santa is coming' is the fast tempo tune and comes across quite well. Great Bass lines on this one as well. 'Drummer Boy' closes the album out with a slightly different take on the tune. Nice change of pace.

If you are tired of all of this generic crap spewed this time of year, don't hesitate to pick this album up. Tracy G is very creative and has an excellent holiday offering here. It may not be year round listening, but should become your favorite seasonal collection.

Click
here
to pick this one up.