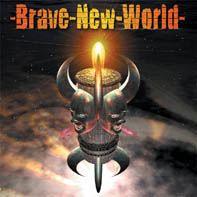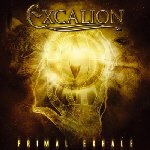 Excalion

    'Primal Exhale'

© 2005 Sound Riot Records

Brave New World

     'Monsters'

  © 2005 Lion Music

Reviewed by Dave Palmer

Excalion is another of those Finnish bands. You know, there are quite a few, almost too many to remember anymore. These guys are definitely memorable. For a debut album from a relatively new band, this one is amazing. I would classify it as melodic power metal. The band embrace some of the elements that have made other Finnish acts such as Sonata Arctica and Stratovarius a force on the scene. For this band, it's all about the songwriting. Great songs make great albums and this one classifies very nicely. There are those that are very fast and then there are those that rely on melody much more. 'Temptation Wasteland' is a really great way to get things started. It is riff oriented and based in a mid tempo as far as heaviness goes. As the album progresses 'A Moment in the Spotlight' continues the feel of the opener. This track is particularly good with single coming to mind. 'Reality Bends' is where the band finds common ground with other melodic speed metallers. The first quick tune of the album, but overflows with melody in the chorus area. From there the rest of the album fits into one of those areas. Musically the band is very tight. Upon listening to some of the arrangements, you get a feel for how good these guys are from a technical standpoint. I feel this album is well balanced and has the potential of putting this band on the map. The goods are there, they just need the fans to take notice and it shouldn't be too hard.

Overall

This album made me an instant fan of this band. This is one impressive debut. The band comes across with alot of confidence. This particular release will be right next to my other Finnish favorites such as 'Dreamspace' by Stratovarius and various Blind Guardian titles. If you like melodic speed metal, these guys are pretty much a sure bet. Highly recommended title.

Questions or Comments? Email Dave by clicking
here
.
Reviewed by Dave Palmer

There really are alot of bands out there huh? They just keep coming and as long as they are quality, I'm okay with it. Brave New World comes to us courtesy of Finland's Lion Music. I found this band very enjoyable. They bring a variety of things to the table. The album starts off with the groove rocker 'Knife in my Back', but quickly becomes more visual with the track 'Arabia' that comes complete with the appropriate sound elements. Just when you think you have this band figured out, they give us a progressive sounding rocker with 'Walls Come Down'. The band definitely has many sides to their writing which bodes well in the long run for this release. When I mention progressive, I mean that from more of a Saga-esque type of sound. Not the usual flashy quick tempo change type thing that is more prevalent in the progressive scene. One of my favorite tunes is the laid back 'Dreams Never Die'. This reminds me alot of something The Storm would do. It's very accessible and instantly memorable. I would get this track to radio because it does have potential in my opinion. Things get interesting once again with the track 'The Other Side'. I like the narraration in this tune. Gives the tune a very cool catchy vibe. I think this album is tight and has alot of hit potential on it. This band was formerly known as Passion Street and had some successes in foreign markets such as Japan as well as Europe. The band evolved with member changes and is now Brave New World.

Overall

This band has alot to offer musically. They have the ability to write in a few different areas such as progressive, hard rock, and a bit heavier and still do all quite well. If the band sounds tenured, it is because they really are. Those familiar with Passion Street will know these guys as they used to be named that and have changed into the band that it is now. Very memorable catchy stuff here. Highly recommended!

Questions or Comments? Email Dave by clicking
here
.