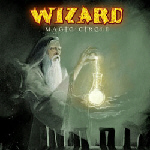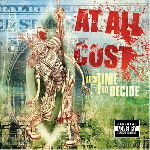 Wizard

     'Magic Circle'

© 2005 Limb Music Products

        At All Cost

  'It's Time To Decide'

© 2005 Combat/Koch Records

Reviewed by Dave Palmer

'Magic Circle' is my second exposure to this power metal band and it's been quite awhile since I was able to review anything by them. This band plays it very similar to bands such as Lost Horizon or Manowar. Frenzied low end and furious guitar riffing abound. This band for those who don't know has actually been around since 1989 and this is the bands seventh album. I didn't find it much different then what I have heard the band do before. You could give them kudos in the consistency department for sure. This also has the potential of having a more selective audience, but what the hell huh? If it rocks it's all good. I mentioned the band as power metal. This band has a very metallic sound that really doesn't give way to any experimentation. It's very straight forward in it's approach. The album opens with a melodic intro titled 'Enter the Magic Circle' and then blows wide open into 'Fire and Blood' which is a good heavy and quick tempo track. It is pretty representative of what the rest of the album is going to be. The format of this album is what you would expect from a metal album with there being a majority of heavy tracks and a few tunes that grab a more melodic moment. Some of these songs include 'Warriors of the Night' which isn't real light, but has a great deal of melody in it, and 'Don't Say Goodbye' which is a very cool melodic tune that closes the album out. Other than those two tracks, this album is a balls out rocker.

Overall

If you like your metal in the vein of Manowar, you'll probably like this band. There are definite similarities in the two. The music is obviously power metal with only minor slowdowns in tempo on your journey. The band has been around quite a long time and it shows with their songwriting as there is a confidence that comes through. It's nice to see some bands still out there that get it done with the four basic elements, vocals, guitar, drums and bass. They retain that true metal type of sound and it works. Decent release here.

Questions or Comments? Email Dave by clicking
here
.
Reviewed by Dave Palmer

It's been a long time since I saw releases coming from the Combat label. I bought alot of stuff from them back in the 80's when there was alot of underground metal coming out. Well the time is now and the label is working in conjunction with the Koch label to bring new releases that I guess would be considered underground once again. The first three releases have launched for the new revamped label and the latest from At All Cost is among them. I have to be honest, these bands lean more hardcore, maybe with a twist. Of those three bands, At All Cost was the only one that really interested me to any extent. I really don't care for hardcore vocals, never quite understood the need for the harshness, but I do like the clean vocals on this album. There are also some synthesized sounding vocals going on that add something cool to the release as well. I think what really stands out with this band is the music portion of each song. I found it all quite good. The band keeps it interesting and entertaining. There are some very catchy radio style rockers such as 'Fabricated' which has a very ear friendly vibe to it. 'Noches Desesperadas' is an instrumental that also shows a different side of the album. Not a very long track, but effective. 'It Burns Black' is another cool instrumental number. Has a very cool retro vibe to it. All in all, this album is decent, but you have to like hardcore to some extent to enjoy a portion of the vocal tracks. I think musically the band is quite sound and therefore quite relevant.

Overall

This will have more appeal to a hardcore audience although there are some tracks here that may have more of a crossover appeal. The music is heavy, but really sounds a bit thrashy borderline traditional. The vocals are the only thing that are really heavy and over the top. There are some very good instrumentals on this album as well. If you have a tendency to like the heavier stuff, this may be for you.

Questions or Comments? Email Dave by clicking here.