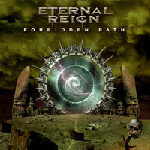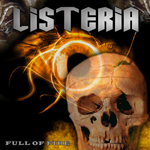 Eternal Reign

   'Forbidden Path'

© 2005 Limb Music Products

Reviewed by Dave Palmer

Eternal Reign is another new group to me. The bands sophmore effort 'Forbidden Path' is available now through the Limb Music label. I would say that this band is typical of what the label offers. Power metal that has a bit of polish to it. This album gets started in decent fashion with the intro track 'Gate to Infinity' which leads us to the first full length rocker 'Light the Light'. The album progresses from there with the track 'Into My Own Hands'. I think this album gets better as it goes along. 'The Final Call' has some good melody that serves as an intro of sorts to one of the albums best songs 'Edge of the World'. This particular song has good drive in the guitar work and has a very memorable chorus to boot. 'Forbidden Path' is a good rocking tune that has some good piano blend in places which adds some depth to the song. It borderlines progressive in places. Probably the one track that I feel would fit great on a total progressive disc is 'Losing Ground'. It's all in the rhythms and the keyboards. A pretty cool sounding track that I feel stands out well. I also liked 'Nightstalker' as well as the cover of the Breaker track 'Ten Seconds In'. This band has made alot of noise in the underground and is being given an opportunity to take it to the next level. I think they have the goods to get it done, but time will tell. I would definitely keep an eye out on these guys though.

Overall

A pretty good second effort from this melodic metal band. Artwork is cool, music has many different elements such as a touch of progressive, some power metal, and the melodic sound mentioned as well. I think this band may have a bright future although the scene is a bit crowded. So far they have managed to do a pretty good job of it. I would recommend keeping an eye on this band.

    Listeria

  'Full of Fire'

© 2005 Lion Music

Reviewed by Dave Palmer

I love bands that are over the top. The Italian metal band Listeria is one of those bands. This band embraces everything that metal is. After all, metal is all about excess and there is plenty of that on this album. I'm not saying that they are really in excess like Raven is, just that there is enough flash to suggest that they have been around a while, maybe long enough to have been a pert of the early 90's metal generation. Yep, it's true. Anyway, this album is alot of fun to listen to. The only thing I could find wrong with it was that it was a bit on the short side. There are 10 tracks total on the album. I like the little snippets used on the album such as the 'Outer Limits' soundbytes at the beginning of the track 'Like Ali'. Adds a touch of cool to the tune. It just stays cool from there. Tracks such as 'Swim in the Mud', 'Emily', and 'Don't Believe' don't let up a bit in the tempo. There arev also big choruses in alot of this music. The band sounds tight enough to have been around as long as they have been. What surprises me is that they haven't broken into a wider audience, well...maybe the audiences here in the States anyway. The music is definitely wild enough and I'm sure the band puts on a hell of a show, so lets have it man! Other tracks that caught my attention included 'Wolf Over 3D', 'Action', and the bombastic closer 'Rock is my DJ'. There is enough smoking guitar on that latter track to fill any appetite. Very cool.

Overall

This album could make alot of traditional metal fans happy although this album is a bit more flashy than your typical mettalic type of music. It get fast at times, but not to the point of thrash. It mellows here and there, but not to the point of calling it hard rock. It's metal and it's pretty damn tasty! Good album!

Questions or Comments? Email Dave by clicking
here
.