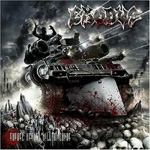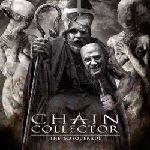 Exodus

'Shovel Headed Kill Machine'

      © 2005 Nuclear Blast Records

Reviewed by Dave Palmer

If I was to dig into my past and name some bands in the thrash genre that were pretty influential on me personally and helped shape some of my taste in metal, I would have to include Exodus. From the 'Bonded by Blood' days through 'Force of Habit', I've been hooked. Nothing could prepare me for this latest release. For a band that has been doing it as long as Exodus, these guys sound better than half of the bands in today's market who play at this same intensity. This album is like a raging rhino that want's to tear you apart. The elements that make a great thrash album are all there. Tons of attitude, ferocious guitars, and a low end that will beat you to death. It's very apparent that these guys are at the top of their game with this album upon hearing the burner 'Raze'. It sets this assault in motion and never really lets go. The current lineup for the band is Gary Holt on guitar, Jack Gibson on bass, Rob Dukes on vocals, Lee Altus on guitar, and Paul Bostaph on Drums. With the music on this album, I have to say that I definitely like this lineup. Looking at some of the other tunes on the album, they are pretty consistent in terms of quality. This album really satisfies through the entire listen for me. 'Deathamphetamine' has a good steady grind to it. 'Karma's Messenger' is typical thrash fare. I really like the attitude displayed in 'Shudder to Think'. These songs are all good for their own reasons. This album is getting really good reviews and for a good reason. If you have missed these guys for a bit, you oughta check them out. Other favorites include 'Altered Boy' which talks about the whole Priest controversy in the last while, 'Now Thy Death Day Come' which has some very cool sounding rhythm guitar work, and last but not least 'Shovel Headed Kill Machine' which is one of the most aggressive musically and closes the album down.

Overall

I think this album is going to make alot of thrash fans from the past very happy. Exodus has done it up right with this effort. It's aggressive and full of attitude which are two of the key components of a successful thrash album. Love the album artwork. One of my favorite album covers this year. Exodus is definitely back and in a big way!

Questions or Comments? Email Dave by clicking
here
.
    Chain Collector

  'The Masquerade'

© 2005 Nuclear Blast America

Reviewed by Dave Palmer

After hearing the bands demo from a bit back, I waited with alot of anticipation for this record. The Norwegian band Chain Collector to me showed alot of promise. I can gladly say they have delivered beautifully on their first full titled release via Sound Riot Records. This band is a bit of a mixed bag. You get old thrash sensibility with more modern hardcore influences. It's no secret that I am not a huge fan of hardcore, but the way this band delivers their music, I don't really consider it full fledged hardcore. Vocally we are seeing what Chain Collector is doing more and more in the market. There are two vocalists on the album, one that does clean vocals and the other handles basically the rest which is much more abrasive and aggressive. What I think makes this album strong is the guitar work. Some bands just have sheer ability to write great riffs and this band is definitely among them. On this release we have all four tunes returning from the demo 'Forthcoming Addiction' including the very cool 'Crucifixion'. I remember liking this song quite a bit then and it just reinforced it now. As far as the newer tracks that are exclusive to this recording, they are pretty consistent with the other four. Good heavy stuff with melodic moments. In alot of ways the guitar work reminds me of what Grip Inc. did on their albums. Good aggressive, yet catchy and memorable rhythms. I think that fans of old school thrash that was on the heavier side are going to like this album really well. If abrasive vocals are a bit too rough for you, I see that as the only problem because the music is really good. I have learned to listen to more aggressive vocal work because of bands like this and Children of Bodom. Both have it in a big way in the music department and the vocals are less of an issue. Some people do prefer more aggressive work, so for that, you'll be plenty comfortable here.

Overall

Definitely worth the wait. This band does alot for musically. Good adrenalin pumping power thrash type stuff. Dual vocalists deliver what sometimes sounds like two different sounds. I think this band is a good crossover act that has the ability to draw not only old school thrashers, but more modern hardcore listeners as well. Very solid release!

Questions or Comments? Email Dave by clicking
here
.