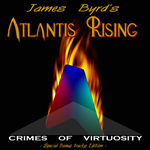 James Byrd's Atlantis Rising

      'Crimes of Virtuosity'

             © 2005 Lion Music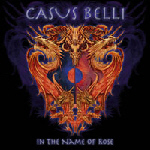 Casus Belli

  'In the Name of Rose'

  © 2005 Limb Music Products

Reviewed by Dave Palmer

Another decent band on the power metal label Limb Music. It took me a few minutes with this recording before I got a feel of who they reminded me of in a way. Thunderhead came to mind. This band delivers it with hard driving rhythms and a fair amount of attitude. They do have a bit of melody in places as well, but they get their power metal label for a reason. Apparently lead vocalist Panos Dedes was one of the many singers to audition for the slot in Judas Priest when it was filled by Tim 'Ripper' Owens. I guess he just missed out which gives the listener of this album a little extra to think about. Dedes vocals are a bit rougher than what you would expect in Priest, but he sure fits this sound very well. This album gets started off heavy with 'I'm Your Master' and really trudges along at that pace with the exception of those melodic moments mentioned earlier. 'Edge of a Knife' is one of those tracks that show melody and discipline, but doesn't really slow the album down a whole lot.  'Naked King' has a very cool sound to it. Semi-modern rhythms with a very cool keyboard tone filling the background. Shows even another side of the band and what they are capable of. Really showcasing their melodic side is the closing instrumental 'Whispering'. This track is a gem and closes things out well and with confidence in my opinion. This band differs from a lot of heavy acts including alot of our domestic bands that refuse to offer any other side other than a heavy or brutal attack. It rounds things out very nice and shows that this band is definitely for real.

Overall

A very good band that plays it heavy for the most part. This band isn't afraid to actually show some melodic element in their music which adds a little dimension to their sound. The band are musically sound from a musician standpoint as well as a songwriting. Bands such as Casus Belli are the reason that I love the Limb Music releases. This album is the same quality as you would expect from this label. Very nicely done.

Questions or Comments? Email Dave by clicking
here
.
Reviewed by Dave Palmer

While I may not be as familiar with Atlantis Rising, I am definitely familiar with James Byrd. Fans will remember him obviously for his work done with Fifth Angel many years back. As far as the band is concerned though, it is very cool and offers up a very different sound in my opinion then what Byrd offered up on his solo outings of the last few years. This album has a very solid rock sound to it, maybe a bit more straight forward if you like. It is important to mention that this album is a reissue of the 1998 album of the same name although this album has been updated with a couple of extra tracks and some sound enhancement. The extra tracks added to the album include 'Shot Down in Flames' and 'Bolero - No.46 Mvt.3'.  The album also sports new artwork which I think is a bit more flashy and nicer looking than the original. I have to say that I really like this album. I think the vocals, which were done by Kendall Torrey, really sound good and give the album that little bit more that artists always want to achieve. As far as the music is concerned, I was really impressed with tracks such as 'Metatron' which just flat out rocks, 'Heaven on the Minds' which has some interesting subject material that is also backed with a sound that makes it visual. 'In My Darkest Hour' is really solid as well and shows alot of soul and feeling. I thought 'Jane' was excellent and one of my favorites. It has alot of melody and substance to it which really makes it one of the stand out tracks. 'Get Free' has me thinking Hendrix in the guitars, but has a very cool vocal vibe to it as well. I think you get the general idea that this is a very well done album. One could go on and on, but lets just say that it's good to see a reissue making it more available now.

Overall

This is definitely some of my favorite work by James Byrd. This album is a reissue of the album by the same name from 1998. Two additional tracks adorn the album along with new updated artwork. The album has a very cool consistent vibe to it and will appeal to rock audiences although Byrd is kind of known as a neo-classical shredder. Definitely a good listen and worth recommending!

Questions or Comments? Email Dave by clicking
here
.