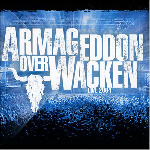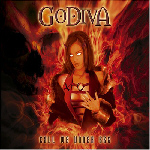 Armageddon Over Wacken - Live 2004

                    © 2005 Magick Records

Godiva - Call Me Under 666

   © 2005 Limb Music Productions

Reviewed by Dave Palmer

I knew something was familiar about this band. Upon listening to the great power metal that was coming out of my speakers, the vocals were reminiscent of somebody. Fernando Garcia is at the vocal helm of this band at the moment. Why is that significant you might ask. Well, Garcia was the singer for Victory for quite a few years. With the success of that band, I find his existence in Godiva to be very significant. That isn't the only reason however. This band is very tight and fairly accessible in their music. In a nutshell, it's pretty likeable. If you were to classify it, I would say it is a safe bet to call it traditional metal. It does have a power metal flair, but who cares anyway's. This kind of metal is just that... Metal. Anyway, back to the music. The album gets started off with an intro titled 'Headache Machine' and is followed by the tune 'Hellraiser' which pretty much sets the tempo for the rest of the album. I say that from a consistency standpoint. A good portion of this album is similar in style and tempo creating a uniform listen. There are definitely some highlights in the track lineup. I liked 'Hellraiser' as an opener. From there I really liked the catchiness of the title track 'Call Me Under 666'. It ends up being one of the most memorable after the first listen. 'My fate' has a great chorus in it and has a very traditional feel overall. 'The Flight of the Dragon' has a unique feel to it with it's varying tempos between melodic and hard driving. This track has a very slight epic feel to it. 'Maneater' is a favorite of mine due to it's groove. It is probably the most catchy track in my opinion with it's grinding rhythms and catchy vibe. The closing track is the darkest sounding track of the bunch, but is still cool. I really wasn't aware of this band until this release, but came away as a fan after hearing their music.

Overall

It's always nice to be able to find musicians such as Fernando Garcia after being a fan of Victory for so long. The bonus here is that this band is really good as well and is a very nice fit for Garcia. I would have to say that if you were a fan of Victory, especially the Garcia era, this is a very good bet. If you just like it traditionally done, it is still a very good bet. Recommended title!

Questions or Comments? Email Dave by clicking
here
.
Reviewed by Dave Palmer

Without a doubt one of Europe's best festivals is the Wacken Festival held annually with a plethora of fans as well as bands. It was only a matter of time before we were gonna get something like this 3 cd set that is meant to document the experience in a way. Does it succeed? Well, not sure exactly as I haven't been there. I have to judge these performances off of live shows in general. I wanna run down each disc briefly.

Disc 1 - B

The first disc is a compilation of more aggressive and death style bands. This isn't my forte to any great extent, but there are some noteworthy things here. There are two tracks by Anthrax that are decent. I also enjoyed the tracks offered up by Destruction, Children of Bodom, Death Angel and Unleashed. I wasn't as familiar with some of the other bands, but overall I think this was a decent listen.

Disc 2 - A

This is the disc for me. The traditional and power metal stuff. Many great performances on the cd. Some include a couple of tracks by Dio and Motorhead. You get some Doro, Nevermore, Kotipelto, Blaze Bayley and a few more. The performance of 'Fear of the Dark' by Blaze was an interesting choice, but went over pretty well judging by crowd reaction.

Disc 3 - B-

This is the disc where I got lost. This is the underground portion of the boxset and probably my least favorite although it wasn't a bad overall listen. There was just not alot of familiarity to me which makes for an interesting listen. I was familiar with Gun Barrel who we have reviewed here on the site in the past. I was also happy to see a track by Zodiac Mindwarp. I was always a fan from the first time I heard this band on Z Rock. I came away liking the performances by Vanguard, Griffin, Gun Barrel, Gutbucket and Zodiac Mindwarp.

Overall

So does this album actually succeed. In some ways yes and others no. Having all of these bands together on this compilation is cool. Where it may not succeed is to me it sounds a bit like a sampler. In my opinion this is decent, but the upcoming dvd set is gonna be all the better because after all we go to watch the shows and the visual part seems to be the more feasible option. Decent effort overall though.

Questions or Comments? Email Dave by clicking
here
.