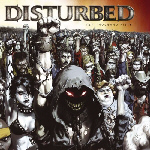 Disturbed - Ten Thousand Fists

            © 2005 Reprise Records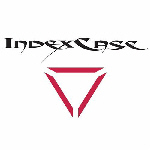 Index Case - Index Case

        © 2005 Mortal Music

Reviewed by Dave Palmer

After a bit of a wait and a member change with bass player Fuzz exiting the band a bit back, Disturbed finally return with their follow up to 'Believe' from 2002. After the change in sound with 'Believe' where the band found themselves going for a bit more melodic sound, it will leave you wondering where they decided to go with the latest record. Look for more of a hybrid sound with this album. I think the band have taken the best of both sounds from their two previous records and incorporated it all into this album. The album is heavier overall than 'Believe', but has some good melodic twists to it to offer up balance. The album consists of 14 tracks of metal that has crossover potential in my opinion. I may have mentioned it before, but this band kind of bridges a gap between old and new metallers. The music has a modern tinge, but has enough traditional sounding crunch to bring in older fans at the same time. Vocal work by Draiman is in places back to the sounds of 'The Sickness' which will appeal to those who may have been a bit dismayed at the less aggressive sound from last time. Not that he doesn't give us that as well, which I am happy with by the way, but he brings back a bit of the aggressive stuff too. Looking at some of the music on the album, there is an abundance of really good and heavy stuff. The opening and title track asserts this album in a hurry. From there, we get alot of consistency with only a few tracks veering from the norm. 'Overburdened' is a bit deep, but not quite as heavy as a good portion of the album. 'Land of Confusion', a Genesis cover is definitely fun and has a bit of it's own personality obviously. A heavier version than the original as you would expect. Other favorites of mine include 'Just Stop', 'Guarded', I'm Alive', 'Decadence', 'Sacred Lie', and 'Pain Redefined'. Also worth mentioning is that the artwork was done by Todd McFarlane and Greg Capullo and is pretty damn cool looking!

Overall

If I didn't get my point across above, I really like this band alot as well as this album. I was really revved up to get this album after hearing about it nearing completion and I have to say I am very happy with the results. A good heavy rocking album with alot of attitude. The band have combined their best sounds from each previous record to create a sound that should appeal to alot of people. I give this one a high recommendation!

Questions or Comments? Email Dave by clicking
here
.
Reviewed by Dave Palmer

Index Case hails from Indianola, Iowa and is rounded out by members Joe Ansley on Vocals, Josh Parker on Guitars, Jordan Spence on Drums, and Nick Borror on Bass. Not exactly a hotbed for metal acts you would have to think right away, but these guys are making a name for the place. If you was to describe these guys, you would definitely group them with more modern bands due to their sound. Not totally though. These guys stand on their own due to the way they write their music. The band was inked to Mortal Music which was formed by Soil member Tim King. Being a fan of Soil, I definitely had some interest in this bands sound. I wouldn't go as far as to say they are similar in sound though. Both bands are heavy, but this is a business type gig with dividends that are probably gonna pay well. After listening to some of this bands earlier stuff (not much though), I do think they have really matured alot going into this record. Some of this music existed prior, but this album is really the bands first big shot. As far as the bands sound, it is big and loud, but dark and moody at the same time. Their are some elements to the music that make it more multidimensional than just an all out rockfest. More of a thinking type of band here that expresses well through music. More traditional fans may not find alot to like here, although with an open mind, I feel there is alot to like. Some of the tracks that were heard in earlier form include 'Why Dreams Bleed' which has a video via the bands website. I like the new album version better due to some of the trim that was done. You'll actually see quite a few tracks that the band had released before that are making a re-release on this record. Other favorite tracks of mine from this album include 'Listen', 'Deserver' which is one of my top favs, 'The Wounded', 'II', 'Silent Side of You' and 'Sincere'.

Overall

I think this is a decent effort. Some of this music is seeing a second release and I don't blame them because it is quite good and deserves to see a bigger audience. The music is a little more modern oriented, but does have an accessibility factor that could reach to some of the more traditional fans out there. I went in not expecting alot and came out pretty satisfied. Check this one out!

Questions or Comments? Email Dave by clicking
here
.