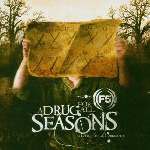 F5 - A Drug for all Seasons

         © 2005 Deadline Music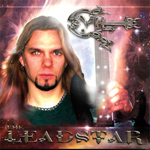 Elias Viljanen - The Leadstar

             © 2005 Lion Music

Reviewed by Mike King

I was excited to accept the assignment of reviewing Elias Viljanen's new offering 'The Leadstar'. Then I got home, threw the CD in my computer and tears began streaming down my cheeks. Being a guitar player myself, I was thrilled to hear so much beauty come out of six strings. Elias has definitely mastered his craft and went beyond his abilities and created twelve new masterpieces that stretch out beyond this world. This album is 100% pure instrumental, there are no traces of the human voice on this at all. No need, the guitars speak for themselves with dynamic harmonies, unforgettable melodies and intense soloing. There are some light jazzy moments with a dash of sugar on the pie and then there are some heavy dark spots that balance out your appetite for the six string crave. Usually it's only other musicians that enjoy these type of albums but there is enough diversity in each selection that will touch music lovers of all walks of life. There are moments when you will hear evidence of a Satriani or Vai influence but I

hear the makings of a new rock guitar legend in the works here. With a mix of his Finnish heritage and the international guitar language he is bound to carve out his own unique style of guitar playing that will soon give him residence in the house of the rock gods. One thing that did impress me is his rendition of the Lionel Richie hit 'Hello'. I mean who in the heavy rock world would dare cover Lionel Richie.There are plenty of notable musicians that help Elias out on Leadstar, including Lars Eric Mattsson. All the musicians are first rate and compliment the music with their respective instruments. The overall production is very well done. Very clear and crisp, you can hear each instrument and each note with distinct clarity making this album very easy to listen to.

Overall

This is a guitar oriented instrumental album much like other albums you've heard from the likes of Vai, Satriani or Moore. It isn't just another guitar slasher album where the guitarist is stroking his ego. Elias Viljanen packs a lot of emotion into each track wether it's a light jazzy number or a hard hitting metal riff, it's all from his heart and soul. There are a lot of remarkable melodies and hooks and of course this boy can shred out explosive solos that will leave your head spinning. Leadstar is an album for all genres and is easy to adapt to. You can check out a sample of his music on his website but beware, you'll find yourself ordering Leadstar before you know it.

Questions or Comments? Email Mike by clicking
here
.
Reviewed by Dave Palmer

F5 seemed vaguely familiar with me. Couldn't remember actually where I had heard of them when I received the press release. Well, Dave Ellefson's name popped up in the release and I was instantly ready for this one. Most will know Dave Ellefson for his many years with Megadeth although he has now parted ways and started up F5. Dave handles chores on the album as expected and also some rhythm guitar work. The band is rounded out with Dale Steele on vocals, John Davis on guitars, Steve Conley on guitars and sitar, and Dave Small on drums. I received the album and was immediately blown away with this release. The band claims to want heavy yet melodic in their music, and they do it absolutely brilliantly. I find most of this album very accessible and what I like to refer as having crossover potential. This meaning that it has the potential of drawing old and new fans alike. There is a bit of a modern feel to it without losing what Dave has been doing for many years now. Don't panic though when I talk about that modern feel. This album is a bit of a stunner. There is quite a bit of flash in the guitar playing and some decent complexity in the rest of the instrumentation, but overall, it never gets overly done as to classify this band as anything other then a good metal band. The first few songs on this album will have you hooked in a hurry. The opener 'Faded' along with 'Dissidence' and 'Fall to Me' really set the tempo. The latter of the three has some very cool sounding Sitar added in. These songs could all go to radio and make this band pretty big. Then you have the rest of the album including some of my favorites, the title track 'A Drug for all Seasons', 'Bleeding', 'Hold me Down', 'Defacing', 'Look You in the Eyes' and the very cool, but short closer 'Forte Sonata'. The only track I wasn't too fond of is the cover track of the Edie Brickell tune 'What I am'. I didn't like the song then and didn't really care for it now. Other than that, this disc is a consistent listen where you won't be looking for the fast forward button. There is also an enhanced portion to this disc with a first look at F5 during the recording process. Always fun to get an inside look with the band. This portion times in around 10 minutes long.

Overall

This album has some serious potential in my opinion. The music is there, they have a big name with Ellefson in the band, and if promoted well could really tear the charts apart. It is accessible to both a newer audience as well as the traditional old schooler's such as myself. The band is working for a melodic yet heavy sound and it works very well. Some of the catchiest heavy stuff I have heard in a while. I would definitely recommend this title without hesitation!

Questions or Comments? Email Dave by clicking
here
.