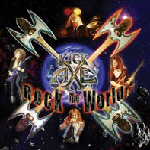 Airless - 2nd Round

     © 2005 Lion Music

Reviewed by Mike King

This is my first round with the Spanish hard rock band Airless. 'Second Round' is obviously album number two for the band. By the sound of this album there will be many more to come. They hail the classic rock sound with a harder, punchier edge than their eighties counterparts. However there are plenty of melodic overtones in the vocal harmonies and guitar riffs that will surely appease the radio media as well as to rock fans of all sorts. Inaki Lazkano's vocals are very powerful and yet persuasive. The lyric hooks are catchy and easy to follow with great harmonies from the backing vocals. That is something that is lacking in alot of the popular market these days. I like to hear people sing and not just grunting a bunch of nonsense. Robert Rodrigo's guitar work is absolutely amazing.His lead work resembles that of Eddie Van Halen and Vito Bratta with the finesse and lighting speed of Steve Vai or Yngwie Malmsteen. He gets to show off his talent on the instrumental, 'The Good Times'. It is a heart felt number, one of the slower songs on the CD. It shows his passion for the instrument he has mastered, in other words, it's not just a guitar solo. Bassist Miguel Manjon and drummer Paco Martinez show their dedication to the music with solid rhythm and precise punches. The production of the CD allows them to be up front in the mix but not in the way of the melodies. The last track on the album, 'The Darkness' lends a different angle to their sound that allows them to compete with today's heavier sound, yet they leave one foot in their melodic side which gives this song a unique blend. It ends very heavy and dark, making you want more. There is a slight mix of keyboards throughout the album that enhances their music where needed, for example on the title track and opening song, '2nd Round'. It starts out with a heavy guitar riff and then comes in with a gravely organ underneath to build up the intensity tune.Track three, 'Don't You Go' is your typical rock power ballad but like all the great rock ballads from the eighties, it has a lot of meaning behind it and it's packed with emotion and a killer guitar solo.The entire album has a great rock feel to it without a sour note anywhere.

Overall

'Second Round' has a classic rock feel to which is refreshing and actually different for today's market but albums like this are necessary for a healthy balance in our music collections. The guitar riffs are prevalent and melodic. The vocals are catchy and personable. The rhythm is tight. It's a great album to rock out to and to remember the good 'ole days by. I still have a passion for the classic sound so this album hits home for me.

Questions or Comments? Email Mike by clicking
here
.
Kick Axe - Rock the World

      © 2005 Amber Interactive

Reviewed by Dave Palmer

Finally. The Kick Axe collection is complete. I would say that this was definitely a hard one to find until reissue. I had it on the dreaded cassette and it actually was released on disc in some markets, but in very limited quantities. I knew this release was inevitable eventually. I had talked to Larry Gillstrom in interview about it last year and knew it was just on the horizon. A couple of things are different about this version though. Expect a little better sound due to a remaster by Raymond Harvey, who ironically was missing on this particular album, but still lends a great ear to the sound. The artwork is also different. Apparently the band didn't choose the previous cover and were never happy with the way it turned out. I like the way this artwork looks quite a bit better. As far as the music is concerned, I always liked this album. What I find quite interesting is that if you listen to each album in succession, you will heard the band grow. You will also see the bands sound evolve as well. I found that interesting with 'IV' as well. Even though it was separated by quite a number of years, it still sounded like it picked up where this album left off with a bit of a sound change. This album really rocks well with some very cool moments such as 'The Chain' originally penned by Fleetwood Mac. Overall, this album is a rocker. It's all about rock and roll although the band has their usual disciplined approach. The other thing that the band always embraces is a whole lot of melody. There is always a good balance of crunch and melody on their albums, and this one is no different. I have really grown to appreciate this album so much more this go around. It seems like you don't really miss something until it isn't there, and this one kept us waiting for a while. Maybe it was that it didn't get much play time due to the cassette. Who knows. Anyway, most of the fans are aware of the this album and the music on it. If I was to pick my own personal favorites, I would include 'Rock the World', 'The Chain', 'Devachan', 'Warrior', 'Great Escape', 'We Still Remember', 'Magic Man' and 'Piece of the Rock'.

Overall

I really like this album, maybe more now then back in it's day. The album gets a sound revamp as well as a new cover. You could consider it the missing link in the bands catalog. You get the bands edge with this album, but also their melodic nature added in with great results. The album at this point should be more accessible on the shiny disc than at any other point in it's release. Now with the catalog complete, we look forward to some new music from the band. For now, go grab this and make it complete!

Questions or Comments? Email Dave by clicking
here
.