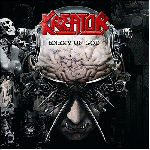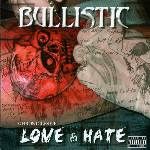 Kreator - Enemy of God

© 2005 Steamhammer Records

Bullistic - Chronicles of Love & Hate

        © 2005 Bullistic/Backstreet Records

Reviewed by Dave Palmer

I got my feet wet with Kreator only within the last couple of years. I got the chance to check out 'Violent Revolution' and really liked the aggressive nature alot of that record. I found myself going backwards into their catalog to get more from them. Well, this time around we get the new album 'Enemy of God' from this extremely heavy band. Subject material seems to be political dealing with suicide terrorists and the war on terror and much more. Heavy subject material makes for heavy music. This album as expected gets out of the gate in a hurry with the mentioned title track. If you have never really heard Kreator but like your music heavy, you will be smiling at this point. This is old school heaviness here. 'Impossible Brutality' follows and is one of the more catchy tracks. Catchy, but not sacrificing their heavy nature that is. This song is also represented with a video track on the cd which I thought was a cool addition. You'll never hear me complain about this type of thing. The album has the bands usual consistency in terms of tempo. Most of the album is very similar in intensity with only 'The Ancient Plague' having a bit of it's own thing going on. It has an epic feel, but turns equally as heavy. Probably one of my favorite tracks on the album along with 'Impossible Brutality', 'Suicide Terrorist', 'Voices of the Dead' and 'Under a Total Blackened Sky'. If you are already familiar with Kreator, this album is probably already in your collection. If you haven't heard them and are into the likes of bands like Slayer in terms of intensity, you'll probably like Kreator. The band vocally is more old school and not really into the modern grunt that seems to dominate today's market. They definitely have won me over when I need a fix of heavy music played with thrash sensibility.

Overall

Very heavy music here. Fans of old school thrash are gonna eat this one up. This is a bit more than just thrashing though. This band plays with a sensibility that can be attributed to their tenure in the biz. They never sacrifice their intensity. Once again the band shows how consistent they can be. I can't say enough good about this release. If you like it really heavy, you gotta own it!

Questions or Comments? Email Dave by clicking
here
.
Reviewed by Dave Palmer

You know, from time to time I think to myself, how can people keep writing songs that sound new and refreshing. It really is amazing. I had that thought as I listened to the latest from Bullistic. This band doesn't mess around. If I had to describe their sound a bit I would probably think of a bit of the Corrosion of Conformity or Godsmack sound. Very crunchy guitar rhythms, powerhouse vocal work and still enough melody to make it accessible to a wide variety of fans. I think you could throw a wide variety of the tunes on the radio and make singles out of them. The band write each tune with alot of catchy hooks and memorable choruses all with a bit of a modern edge to them. The music on the album offers a bit of variety. Most of it is packed with a fair amount of attitude which is why we like rock 'n roll in the first place. There is also some pretty cool things going on in places with melody as well. Looking at the rock side of things, the album opens with the rocker 'Now & Forever' which has some old school rock sensibility mixed with a modern attack. 'Discarded Soul' comes next and is one of my favs. Very disciplined track that only rocks when it needs to and flows the rest of the time. 'Made of Stone' is another rocker similar in tempo to the opener. 'Stuck in the Middle' is the old classic from Stealer's Wheel which the band covers. It sounds decent and I was always a fan of this tune. 'Eulogy' is where things take a bit of a lighter turn. This track reminded me of some of the more laid back Godsmack stuff. Another fav track of mine is the rocker 'Doomsday's Coming'. I love the choruses on this tune. I would send this tune to radio. The rockers keep coming with the tracks 'Brand New Existence', 'Tired of You', 'The Darker Side of Me' and 'Good Luck With That'. All pretty consistent in terms of quality. As far as the last unmentioned track, 'Ignorance & Innocence' is offered up in two forms. The track is more laid back than most in it's normal form, ut you also get an extended version as a bonus track to close the album out.

Overall

I had never really heard of these guys, but came away pleased with the music on this album. It falls anywhere from C.O.C. to maybe even a little Zakk Wylde in the music. I found some of the music fairly catchy for heavy music. I think the album has the goods to draw new fans if promoted well. If you like it raw with plenty of attitude, it's an entertaining listen.

Questions or Comments? Email Dave by clicking
here
.