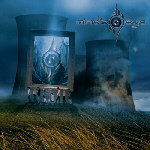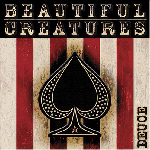 Beautiful Creatures - Deuce

         © 2005 Spitfire Records

Mind's Eye - A Work of Art

           © 2005 Lion Music

Reviewed by Dave Palmer

I remember hearing the debut from this band a few years back and really liking it...alot. With the musical climate in a rough phase of transition, I was hoping that it was going to go the direction of Beautiful Creatures. In some ways it has. The band have returned with that winning formula, but have also added a bit of modern aggression to it. It really has the potential to draw a lot of fans if the album is promoted well and people know about it. In terms of style, this album has alot of similarities as the bands debut. There is alot of flash that has you thinking of the late 80's. For those not in the know, this band features Joe LeSte of Bang Tango fame. Also in the band are Kenny Kweens on bass, Anthony Focx on guitars, Mark Simpson on guitars, and Timmy Russell on drums. The band is well rounded with talent and have put together a really cool sophomore effort. As mentioned, there is alot of old and some new when it comes to the sound of the album. The album asserts itself right out of the gates with the track 'Anyone'. This track is what rock & roll is all about. It picks up from there and really never lets go if you like your music full of attitude and very loud and explosive. As I rolled through the album, my favorites include 'Freedom' which has a very cool and flashy vibe to it, 'Unforgiven' just due to it's cool grinding rhythm work, 'Superfly' which I think would appeal to the younger crowd as well. 'Empty' is pretty cool and I like the vibe of 'Never' which has some interesting elements that provide a good groove. You know you are gonna get an asskicker with a title like 'Straight to Hell'. It doesn't disappoint. I also really liked the vibe on 'Thanks'. As you listen to these tracks and the attitude that you get with each, you sense what has been missing in the rock world for some time. Rock is about excess and Beautiful Creatures grab it and run with it!

Overall

I said it before with the bands debut. This band embraces everything that was cool in hard rock in the late 80's. It is loud, flashy and full of attitude, just the way I like it. I would love to see more bands on the same wavelength as Beautiful Creatures. Maybe we would have a full fledged scene. I definitely have to recommend you pick this one up. You won't be disappointed!

Questions or Comments? Email Dave by clicking
here
.
Reviewed by Mike King

'A Work of Art' created by the progrock band Mind's Eye is truly a musical masterpiece. I personally deemed their style as jazz/metal. Each track is a composition carefully and thoughtfully created by four highly accomplished musicians. The entire album is squeaky clean, every note in it's place and very dynamic. There is probably a lot of studio magic on this cd but I'm quite sure that the band is very disciplined and it didn't take much effort to pull this album off in the studio. This band is very well the European version of Dream Theater. You can heard influences from DT as well as bands like Kansas and Yes. I also hear alot of Steve Vai in the solo's. Very quick, very clean and precise. The vocals and chorus lines are angelic in texture. Andreas Novak's diction is clear and understandable and compliment the melodic instrumentation composed that surround him. Even when they get down and dirty their style is very therapeutic. The band consists of lead vocalist Andreas Novak, guitarist Fredrik Grunberger, bassist Johan Niemann and percussionist Daniel Flores. All masters of their trade. Danile also adds keyboards to strengthen the tie between each instrument and finalizing their unique brand of progressive rock.

Overall

All in all this album is very melodic, soothing and yet intense. Each composition is highly aggressive and very musical. It's an album for all genres. Hailing influences from immortal bands like Yes, Rush, Kansas and Dream Theater.  It's an album that can relax you and make you feel like conquering the world at the same time. Lot's of intense guitar work, dynamic percussion and intelligent vocals.

Questions or Comments? Email Mike by clicking
here
.