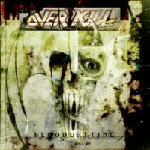 Overkill-Bloodletting

  © 2000 Metal-Is Records

Baltimoore-Original Sin

         © 2000 Lion Music

Overkill returns with a new album of sonic fury. I always state that this is one of the most consistent bands I have ever heard. They were heavy in the beginning and are still true to the same roots. Knowing of this consistency, let's look at the new album.

Tracks like 'Thunderhead' , 'Death comes out to play' and 'Can't kill a dead man' let you know that this is gonna be heavy. Playing in the same zone as previous efforts and staying just as consistent. 'Bleed Me' , 'Blown Away' and 'What I'm Missin'' have the classic Overkill feel with a lot of crunch. 'Let it burn' gives us a ton of punch with some wah-wah to fill in the gaps. 'Left Hand Man' is the track that has the sharpest curve in it. Great melodic start and then it kicks your teeth in. Want it fast?? How about a dose of 'My name is Pain'?? The band sounds as good as ever with that tightness you've come to expect.

There are no surprises here. Great heavy album that fans will love. That is the great thing about Overkill. You don't have to worry about the album's direction. It's always in your face and very consistent. This is a great album from a great band with an awesome track record. Don't miss it.

So you like bands that can rock with today's bands, but give you the feel of classic rock bands like Deep Purple??  Baltimoore, one of Lion Music's new offerings deliver just that. Vocals like Ian Gillan, not so predictable tunes, and good songwiting are all evident on Björn Lodin's latest offering 'Original Sin'.

There is a wide variety of tracks here. Rockers like 'Conviction', 'Emancipation', and 'Omniscience' ascert the band's presence in the hard rock market. How about some bluesy numbers like 'Indecision' and 'Contradiction'?? The latter combines violin with the blues for a real different feel. Works well though. 'Superman' almost has the feel of a lounge tune with it's sax and mild tempo. Probably the most different track on the album. 'Recognition' and 'Retribution' flow smoothly for a more easy going listen. 'Redemption' closes the album with an upbeat 70's rock feel. Very enjoyable melodic tune.

If you are looking for something a bit different that brings a lot of different influences to the table, Baltimoore is just the right thing. It's a fun listen from a good band that many on our shores may not be familiar with. Check it out.