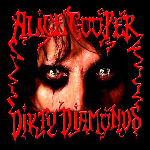 Alice Cooper - Dirty Diamonds

         © 2005 New West Records

Reviewed by Dave Palmer

I really found this album intriguing. Not only due to the fact that Alice Cooper is a legend, and to this point isn't showing to many signs of slowing down, even after more than 3 decades in the biz. What I found stunning was the absolute retro feel that this album has. This album sounds exactly like vintage Alice from almost thirty years ago. The subject material is vintage, the guitar and overall music sound is vintage, it's amazing what Cooper has accomplished here. While the album isn't a technical masterpiece, it gets it done with familiarity.  I had a smile on my face from start to finish with each track. Some of the music on the album would have fit very well with some of his classic records such as 'Billion Dollar Babies' or 'Killer'. There are the usual oddities on the album such as 'The Saga of Jesse Jane' which has a feel similar to something Johnny Cash has done in the past. It talks about some cross dressing freak, you know, typical Alice Cooper fare. Another track that had a very cool vibe to it is the title track 'Dirty Diamonds'.  The music throughout the album just has a great rock sound with very typical Cooper lyrics. The only thing I might have changed to the album is the packaging. Didn't really care for the digipak packaging as my center spindle was broken and that will be hard to replace. That is a very minor gripe though as the album is so cool that I will definitely deal with it. Alice has the potential with this album to do some great things with his infamous stage show. Maybe a few adds to the old standby's. I really like most everything on the album, but if I was asked to pick favorites, I would go with the title track 'Dirty Diamonds', 'Woman of Mass Distraction', the catchy and humorous 'Sunset Babies (All Got Rabies), the groovy 'Run Down the Devil', and 'Zombie Dance'.

Overall

Alot of nostalgic fun. Cooper has done something very cool with this release. He has created an album that sounds like it came straight from the early 70's. I found it amazing from a creativity standpoint. The music is also very fun to listen to. The magic that he cultivated his career with has come full circle. If you are looking for something classic with some cool not to serious themes, this one is an absolute winner! Recommended!

Questions or Comments? Email Dave by clicking
here
.
Gemini Five - Black:Anthem

          © 2005 Wild Kingdom

Reviewed by Dave Palmer

If you are thinking that we just talked about an album by Gemini Five recently, you would be right. Here's the reason. The bands effort 'Babylon Rockets' was just released in the States recently, but had been released oversea for some time. The band recorded new material for the latest album which is the subject of this review. I don't have the specifics on distribution yet, but you are going to want to pay attention to this album. The band set a pretty solid foundation with their previous effort as we mentioned, but have grown as a unit even more in their sound with the latest record. In some ways you might compare this album to something along the lines of Shotgun Messiah's 'Violent New Breed' although 'Black:Anthem' is a bit less industrial. 'Black Anthem is a bit dark in places, but is rock solid start to finish. You can just sense the confidence the band has at this point through the music. I guess you could say that this band is a serious contender at this point in their career. Looking at the music on this album, it all starts with the groove oriented intro 'Babylon K.A.O.S.' which jumps into the bands first full length track 'Flesh for Fantasy'. No, it's not a Billy Idol cover, but it does rock and has memorable choruses.  The album flows through other cool tracks such as 'When the Body Speaks', 'Heaven Come Undone', the ultra cool title track 'Black:Anthem', 'Love Venus', and 'Sinners Parade'. These would be some of my favorites although as I mentioned, the album flows well with really no filler to be found. A good solid listen start to finish. I can only hope that we see a release here domestically before too long as I hate to see cool albums such as this become overlooked after they have been out for awhile.

Overall

Once again I am pleased. I had heard great things about this band and their release 'Babylon Rockets'. I was happy with that album, but even happier that the bands latest was so close behind. The album has some industrial element to it albeit light and somewhat similar to 'Violent New Breed' by Shotgun Messiah. Don't go in expecting that as an overall sound, because it isn't. Just similar. I liked about everything I heard and feel the album flows well. I think the band should be capable of doing good things if they are handled properly. Keep an eye out for this release as you'll be glad that you did!

Questions or Comments? Email Dave by clicking
here
.