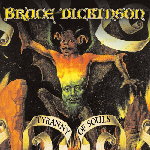 Bruce Dickinson - Tyranny of Souls

             © 2005 Sanctuary Records

Reviewed by Mike King

Well Bruce is back is all his glory with in my opinion his finest offering to date.  I have been a fan of Bruce's since the first time I cranked up 'Number of the Beast' and I'll tell ya, this guy is only getting better with age. He has teamed up once again with writer/guitarist/producer Roy Z who if you've been paying attention, produced and engineered Judas Priests' latest album 'Angel of Retribution'. 'Tyranny of Souls' is a fine example of what happens when you get two legends in the studio together. Each track is more than a song but a work of art forged in the name of Metal. This CD is loaded with musical talent.  Besides the familiar and distinct vocal style of Bruce Dickinson and the incredible guitar work from Roy Z you get Maestro Mistheria on keys, David Moreno on drums, with Ray Burke and Juan Perez on bass. All masters of their craft. This album has all the usual heavy riff laden guitars with massive solos and even alot of Maiden style double leads with pounding drums and driving bass that is familiar with Dickinson's music but this one seams to be a bit more aggressive than past work. It also has some real dark moments, almost Gothin nature. The addition of keys really adds to the mystic of this album and helps keep the typical metal sound modern and competitive with todays market.  I really like the bass lines and heavy keyboard influence in the intro, 'Mars'. It sets the tone for the entire album while building up the anticipation for the first full track, 'Abduction' which will cut it's way through your chest from the first note.  By the way there is a killer video for 'Abduction' on Bruces website you must see! On the next track, 'Soul Intruders', David Moreno stumps all over you with his double bass attack which gives you an idea of the extreme nature of this album. The whole album is full of this fierce intenseness with mixes of somber orchestrations and choir like vocals. Bruce also likes to show of his versatility with such tracks like the acoustic number, 'Navigate The Seas'.  It's a brilliant adventurous piece with acoustic guitars, piano and dualling electric and classical leads.  Bruce doubles up chorus lines that add to the mystery. 'River of no Return', is one of my favorites on the CD.  It has a 'Heaven and Hell' (Black Sabbath) feel to it, again with modern sounding keyboards, groving bass lines and growling Sabbath like guitar lines. 'Power of the Sun' has a real Iron Maiden feel to it.  In fact you would swear it was Maiden doing this one.  It dons the dualling guitar riff sound that made Iron Maiden famous.  'Believil' is quite a bit different than anything else on the album. It is extremely dark and very disturbing.  All the instruments are tuned way down to the gutter on this

one.  It's as if they wanted to drag you through a dirty trench on this one.  Keep your razor blades locked up while listening to it.  And then a tasty finish, the title track, 'Tyranny of Souls'.  It is well placed on the album line up as the end of an intense journey.  Very heavy and soulful.  Like coming over that last horizon before your end destination.

Overall

This album is packed full of everything, soulful vocals from one of the great legends of heavy rock music,  massive guitars,  earth shattering rythym tracks,  energy,  mystery and intrigue.  Great stories are told and played out in true metal fashion.' Tyranny of Souls' contains all the traditions of Metal Music but brought into the 21st century with grace and dignity.  It contains some of the best musicianship in the business to date with the timeless vocals from a true legend in metal history, Sir Bruce Dickinson.  You'd be nuts for letting this one pass you by.  It is by far the best so far from Bruce Dickinson.

Questions or Comments? Email Mike by clicking
here
.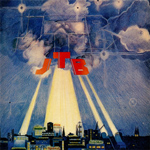 Jukka Tolonen Band - JTB

           © 2005 Lion Music

Reviewed by Dave Palmer

This album shows just how diverse we can be at the Resource. The Jukka Talonen band play more of a Jazz/Rock fusion style. While I have never been much of a Jazz fan, I can still offer up credit for a job well done. The band is very tight and is actually much more accessible than some of the bands I have heard that play the same style. If I was to point out a high point of the album besides the musicianship, I would mention the great groove that permeates throughout the album. You get the general idea on tracks such as the album opener 'Charterflight', 'Dancing Bear', 'Funky Nightmare' and even the unusual closer 'Ide & Lärdomshistorien/Lilla Lute Älv'. The latter is supposed to be from many years back and was included with this album as a bonus track. So what exactly is the moral of the story here anyway? Well, even though this isn't something I will listen to a lot, there are probably people who may be looking for something along these lines.

Overall

A decent release of Jazz/Rock fusion. I don't listen to this type of stuff very much and may not do too many repetitive spins here either. I do recognize that this is a solid band that adds a taste of funk to get their groove going. Fans of this genre may already be aware of this artist and this style of music.

Questions or Comments? Email Dave by clicking
here
.