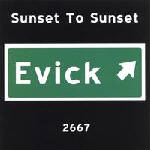 Royal Hunt - Paper Blood

   © 2005 Magna Carta Records

Evick - Sunset to Sunset

      © 2004 Some Odd Music

Reviewed by Dave Palmer

I have to say this up front to keep it honest. I haven't listened to alot of this bands material. I did get 'Land of Broken Hearts' way back when it first came out and really just lost track of them. I did check out the solo album from DC Cooper who came out of this band some years back as well. Well, I open the mailbox and there is the latest from Progressive rockers Royal Hunt. 'Paper Blood' is the bands latest and was 14 months in the writing process. I think it shows through in the music very well. The songwriting is very solid. As far as the sound, if you have heard this band, I guess you will know what to expect. There are lots of guitar sounds mixed with a heavy keyboard presence. The music to me is melodic and leans to a progressive mixed with neo-classical sound. I really like what I heard on this record and it probably brings my interest level back up a few notches. As far as a few of the tracks that I feel stand out, 'Break Your Chains' gets it done very nicely. I know it sounds a bit cliche', but this song definitely does set the tempo of what comes after it. 'Not My Kind' is memorable and catchy with thick guitar sounds and frenzied keyboard work. I liked 'Never Give Up' really well. I found the choruses catchy and memorable and the music just had a decent vibe overall. 'Seven Days' is another favorite. Vocally this song is a gem in my opinion. John West showcases his vocal talent throughout the album, but I think he shines most on this track. It has a very catchy groove as well. Vocally, 'Kiss of Faith is another clear winner. This track has an acoustic based sound that builds a little and gives us a different feel in sorts up to this point. I like the heaviness of the title track 'Paper Blood'. The mix of the heavy guitar sound and the keyboard riding in the background works well here.  Another favorite and perhaps one of the best written tunes is the instrumental track 'Twice Around the World'. I found myself going back to this song for another listen.  I really feel that this is a decent effort from the band. The music is solid and should grab a few new fans if promoted well.

Overall

I have to admit being surprised at this album as it was really good. It's not that I didn't like Royal Hunt, I just kind of lost track of them. The music on this release sounds very veteran and the band are very proficient as one would expect. If you like neo-classical progressive melodic rocking stuff, these guys will get the job done nicely!

Questions or Comments? Email Dave by clicking
here
.
Reviewed by Mike King

Being a musician/promoter myself, I'm always on the look out for new talent and I must say that it is not everyday that you come across a band who still plays rock music with the spirit that was intended from the

beginning. The only thing I've found wrong with with this CD is that there are only five tracks on it. Five tracks of pure rock and roll gold. The lyric content is rich and meaningful, full of soul and Pete Evick delivers it with conviction. Their sound captures elements of bands like Bon Jovi, Goo Goo Dolls and John Cougar just to give you an idea of

their style. They mix acoustic guitars with a heavier guitar mix over the top on the first track 'Savannah' and on my personal favorite 'Elvis'. They crank it up to ten on the rockers like, 'This ain't the life'. What I really like about this CD is that every track has a freakin' guitar solo in it. I don't know who the idiot was in the nineties that decided rock music didn't need lead guitar but come on, what is rock music without someone tearing it up on the guitar. Evick is a band that this era needs to keep the rock and roll spirit alive and fresh and in the forefront.

Overall

Evick is nothing more than a band of guys just playing music they believe in. They are carrying on the rock and roll torch with the basic elements of great vocals, both lead and harmony along with harmonic rhythms and tasty guitar licks. Their songs have meaningful story lines and catchy chorus'.  I'd keep an eye on this band, they'll definitely be chart busters some day and probably sooner than later.

Questions or Comments? Email Mike by clicking
here
.