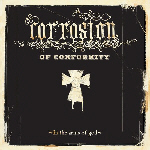 Corrosion of Conformity - In the arms of God

                        © 2005 Sanctuary Records

Reviewed by Dave Palmer

Corrosion of Conformity is a band that I had actually seen live quite a few times before I really became a fan. I would say that the live show had it's influence on me becoming a fan. The thing I picked up on was how consistent the band was in intensity and sound show after show. As I have gone back and bought alot of their catalog, I have been happy with most of it. The latest release is no exception. I actually like this release more than all of the others at this point, my favorite of theirs. The sound is heavy with a very cool groove weaving from track to track. This starts with the opener 'Stone Breaker' which also sounds like it's gonna be a blues rocker and then gets a very cool vibe to it as well. As the album progresses with tracks like 'Paranoid Opiod', 'It is that way', and 'Dirty Hands Empty Pockets (Already Gone)', you realize that this album is heavy in a different way. It isn't crushing or bruisingly heavy, but has a very heavy attitude and atmosphere about it. This is a trait that Corrosion of Conformity has been able to duplicate through their career, album after album.  Go back and listen to earlier albums and you'll know what I am talking about. There are even some tracks that have a different vibe to them such as 'Rise River Rise' 'Crown of Thorns' which is short, but different or 'So Much Left Behind'. All in all, this album is very consistent and very good in my opinion.

Overall

A very solid album from Corrosion. This band has been at it a long time and don't miss a beat with their latest release. I found the album heavy in attitude and instantly likeable. It's very consistent with some of the bands previous work. I really like the attitude displayed throughout the release and the bit of variety in some of the sound. Great album with a great groove.

Questions or Comments? Email Dave by clicking
here
.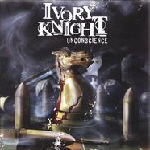 Ivory Knight - Unconscience

       © 2005 Ivory Knight Music

Reviewed by Dave Palmer

The latest effort from Canadian Rockers Ivory Knight is all about classic metal. It's traditional in sound with a fair amount of power.The mixing and mastering was handled by none other than Annihilator's Jeff Waters. This really is a good match. In some ways you may be able to draw comparisons, but not totally. Both bands play it heavy with some faster tempos at times. Vocally, I think they differ a bit though. As far as the music overall, I like what I hear. It's consistent in terms of quality and really does indeed embrace the more traditional sounds that have been absent in the scene for a while with few exceptions. The album opens with the rocker 'Up from the Ashes' which has some cool rhythm work in my opinion. The album flows well from there with quite a few heavy tempo tunes such as 'Borderline', 'Holy Martyr', the quick tempo title track 'Unconscience', and the instrumental 'Eleven' that is one of my favorite tracks. I like some of the other elements that are used on some of the other tracks as well. I like the organ usage on 'Introspective' as well as the overall sound and atmosphere of the tune 'In Fog I Walk'. The band in my opinion have done a good job on the songwriting. It's refreshing to listen to an album and get the feeling you had years ago with the traditional sounds that were so prevalent at that time. The band are tight  as musicians and seem to have pretty good chemistry.

Overall

If you are looking for a very good power metal album that has a traditional sound to it, these guys are really good. The album had some help from none other than Annihilator's Jeff Waters. This in itself will probably gain a bit of attention. Just know that these guys are really good as a power metal band and have their chops down. Good songs and good approach equals good album!

Questions or Comments? Email Dave by clicking
here.