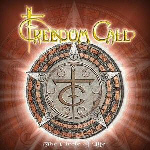 Freedom Call - The Circle of Life

        © 2005 Steamhammer Records

Reviewed by Dave Palmer

The album that got me into these guys was 'Crystal Empire' and was released a few years back. When you like an album that much, it becomes the standard for what you compare subsequent albums by the band. I believe that the bands latest, 'The Circle of Life' is the second album since 'Crystal Empire' and is probably my favorite since that album. It is a bit different than that release, but does retain the bands sound. You could actually say that the band really haven't broken any new ground with this release, but to that I say, that's okay. I know exactly what I want from Freedom Call and they delivered it perfectly. The music on the album is pretty typical although in alot of ways is more straight forward than melodic speed metal. Good heavy rock record overall.  Looking at some of the tracks on the album, I was really into tunes such as the opener 'Mother Earth' which is instantly memorable,  'Carry On' which is a bit anthemic in it's sound, 'Hunting High and Low' which isn't the Stratovarius tune but is similar in some ways, 'Kings and Queens' is cool as is 'Eternal Flame' and the title track and closer 'The Circle of Life'.  Freedom Call is one of those bands that bring great music to the genre and while this isn't my favorite album by them, it is a strong second after 'Crystal Empire'. There is plenty to like about the album if you like your music fairly traditional with a little pick  up in tempo in places.

Overall

A solid record by a band who may not be as known on the domestic scene here in the States. If you haven't taken a look at the melodic speed metal scene, I think you may be missing out especially if you like a more traditional ring to your music. Check out the bands album 'Crystal Empire' as well as their latest 'The Circle of Life'. You'll be glad you did!

Questions or Comments? Email Dave by clicking
here
.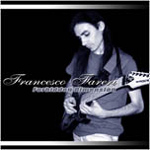 Francesco Fareri - Forbidden Dimension

                         © 2005 Lion Music

Reviewed by Dave Palmer

It's really amazing how many instrumental musicians are out there and the number of them that tend to be higher quality in terms of both musicianship and songwriting. Francesco Fareri can be added to that ever growing list with his latest album 'Forbidden Dimension'. The album is released via the Finnish label Lion Music which has a pretty solid roster of musicians that feel comfortable in this genre. One may be surprised though at the angle Fareri puts on his music. He plays very fast and you could definitely consider him a shredder. He even plays a seven string axe which I thought was interesting. The album opens with 'Days', a short intro based mainly on the piano, but then launches into the second track 'Illusions' which had me thinking Chris Poland and his album from quite a few years back. The approach taken on this album is not the typical. It's amazing how hard driving it is.There are moments of slowdown as well, but the majority of the album really rocks.The only slow track on the album is 'Secrets (part 2)'. Probably the one thing that stood out in my mind was how the keyboards accentuated Fareri's playing. Vitalij Kuprij and Bob Katsionis lend a keyboard hand to the album with great results, not to mention Fareri plays keys as well. It's fast, has attitude and displays just how far Fareri has come in his 10 years of playing. He is definitely making a name for himself and is definitely worth checking out.

Overall

A very good instrumental shredder. There are some great guest musicians that add enhancement to the album such as Vitalij Kuprij and Bob Katsionis. Fareri is one of the fastest players I think I have ever heard. If you are looking for a shredder, this one's a good bet!

Questions or Comments? Email Dave by Clicking
here
.