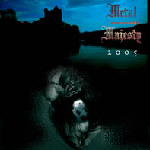 Black Label Society - Mafia

        © 2005 Band of Beer, Inc.

Metal Majesty - 2005

      © 2005 Lion Music

Reviewed by Dave Palmer

Zakk is back. Well, it hasn't been that long, but Wylde is always welcome with his own flavor of metal flavored music. I think Zakk is finding a comfort zone. Listening to the music on this album, I felt like it was only a slight progression from his 'The Blessed Hellride' album. There really are a lot of similarities in the style of music played between those two albums. Zakk has really played in a variety of areas including the heavy arena with 'Stronger than Death' or maybe some of the southern sounds of his Pride and Glory stuff. I personally like him right where he's at. This album to me has a bit more groove than 'Hellride' and finds consistency with this groove. This is where he is at his best in my opinion. Now while I didn't find anything real groundbreaking here, what is here is a lot of fun to listen to. The opening track 'Fire it Up' is played with some cool talk box guitar and provides a good vibe. This continues through 'What's in You', 'Suicide Messiah' and 'Forever Down' (the vibe not the talk box). When you hit the track 'In this River', things change a bit. This is a look into the more melodic side of Wylde and is delivered beautifully. A heavy dose of piano and Zakk's vocals carry the song for the most part, but there are doses of guitar in the song as well. The album once again gets back to business with a bit of a cruncher in 'You must be Blind' and continues in the heavy vein with tracks like 'Death March', the blazing instrumental short 'Dr. Octavia', 'Say What You Will', 'Too Tough to Die', one of my favorites 'Electric Hellfire', 'Spread Your Wings', and 'Been a long Time'. The final track is a great way to end. There is a light side to this track and the mix of piano and talkbox sounds great. If I was to try to sum up the sound of this album, I would say it has a real dirty vibe in the way the songs are written, but it all fits the title of the album very well. There is also an unnamed track 15 that is lighter and much more melodic than the rest of the album. No idea what it is called, but it is very cool.

Overall

What can ya say? If you dig what Zakk Wylde does, then you are definitely gonna dig this record. The album has a very cool groove on it that really flows through most of it. There are a few lighter numbers as mentioned and Zakk always does a fine job on these. I feel the album has a good balance to it and should be a fine addition to any fans collection.

Questions or Comments? Email Dave by clicking
here
.
Reviewed by Dave Palmer

Here is a band that I thought did amazing things with their previous release 'This is not a Drill'. That particular album hit my top 10 of the year and actually ranked pretty high. Valensia has really been making his mark not only with this band, but his solo stuff as well. After listening to 'This is not a Drill' you could really hear the similarities to early Queen. I also remember a bit of Whitesnake in the sound as well. With this album, you get hit in the face with similarities with Whitesnake. While I listened to this album, I found myself going back to the 1987 album alot in style and structure with these new songs. There seems to be a bit heavier tempo obviously on the album. I also hear some Blue Murder on some of these tracks. Kind of funny since the common elelment is John Sykes. Listen to the track 'Love Will Make You Bleed' and you'll be thinking the self titled debut from Blue Murder. With these heavy similarities in the music, it makes it not entirely original, but it is still definitely fun to listen to. The one track that I thought was the oddball of the bunch stylistically was 'Burying Heather'. This one takes us back to that Queen, or better yet Freddie Mercury sound mixed with something more classic, maybe the Beatles to an extent. There are about half light and half in the heavy vein. I like the album pretty well and if I had to pick out some of my favorite tracks I definitely would include 'We Rocked', 'Love Will Make You Bleed', 'Hold On the Night', the Queen sounding 'Alone, Unknown & On My Own' and the great melody and choruses of 'Zenith'. The final track is an instrumental version of 'Ready to Roar' which appears early on in the album. I found this interesting as Valensia has a great voice and I would rather of had another track, but it's a minor indifference, no big deal.

Overall

Another decent effort from Valensia and Metal Majesty. Sounds alot like Whitesnake or Blue Murder from the late 80's, but that is okay, especially if you really like that sort of thing. The band pulls it off pretty well. The music is balanced really well between heavy and light. The band have once again delivered, and although I like 'This is not a Drill' a little better, this is still a great album.

Questions or Comments? Email Dave by clicking
here
.