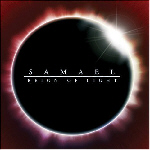 Samael - Reign of Light

© 2005 Nuclear Blast America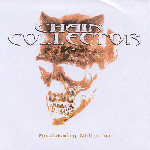 Chain Collector - Forthcoming Addiction

       © 2004 Chain Collector/Sound Riot Records

Reviewed by Dave Palmer

Samael is one of those bands that has been around for a very long time and I can't say that I had ever heard them before this album. The only problem with that is the fact that I don't really have anything else by them to compare this album to, so I'll do my best. This band at it's roots apparently is dark metal, but to be honest with you, with this release, musically I couldn't tell. The music has a variety of things going on in it. Some of these elements include some industrial sound, a lot of atmospheric content providing quite a bit of depth in the background, and it reminds me a bit of earlier Rammstein. The mixing on this disc was done by Stefan Glaumann, who has worked with Rammstein and Clawfinger, so I guess it shouldn't be a surprise why the sound comes off the way it does. The album opens with one of my favorite tracks, 'Moongate'.  This song is cool due to the Sitar mixed with the driving industrial mix. Sounds kind of unique. It's actually very catchy. The album continues to be infectious the rest of the way. Like I said before, I would have never expected the style of the music to be this just due to what I thought this band was all about. They are heavy in places, but there is alot going on in most of the songs which adds to the listen. 'Incha' Allah' has a heavy vibe, but incorporates a middle Eastern sound in it which is cool sounding. The track 'Telepath' is pretty cool and consistent with the rest. There is an added enhancement in a video for this song which is in the form of a quicktime file. The quality of the video is good. Some of the other tracks that I thought staood out included the title track 'Reign of Light', 'As the Sun' which has a cool groove to it, 'Further', and 'Heliopolis' which gets back into the Sitar and then rocks out. Helluva groove on that track. The version I am removing has the bonus track 'Telepathic' added to it. The track is good and fits in well with the rest of the album.

Overall

Well, I don't really know how this album fits compared to the bands other efforts as this is my intro to the band. I definitely like what I hear. This album has me wanting to back track into their catalog and check out some of the earlier material. There is a definite industrial edge to the music, but added atmosphere kicks it up a notch compared to other industrial acts. I can definitely recommend this album based on what I hear. Good listen!

Questions or Comments? Email Dave by clicking
here
.
Reviewed by Dave Palmer

There are times when I just have to talk about demos. Norway's Chain Collector definitely have a demo worth mentioning. The good news is that this is kind of a teaser as the band is suppose to be releasing a full length album via Sound Riot Records very soon. The sooner the better I think. The band play is straight ahead heavy with rhythm oriented metal. 'Wicked Mask' is hard driving and instantly memorable and has choruses that reminded me a bit of Alice in Chains. 'Winter Princess' is similar in tempo and style. I know there are alot of people who froth over lead guitar and solos, but I am a rhythm fan myself. Nothing gets the adrenalin going like a great sounding rhythm. This band is very good at playing those type of riffs. 'Crucifixion' is my favorite track. The guitar work on this track is fairly unique and just sounds killer. This is the lightest this demo gets. It doesn't stay that way for long either. Good driving rhythms all over this tune. Very interesting usage of keys in such an intense song too. 'Fallen Angel' reminded me quite a bit of the guitar work you would hear from Grip Inc. There are only 4 tracks, but for Metal fans, they are all solid and will appeal to fans of old and new.

Overall

For fans of metal, this is gonna be a band to watch out for. I love the band's name too. Nice catchy ring to it. The music in my opinion will appeal to old and new metal fans alike. There is a bit of both elements in it. With any luck, we'll be able to gauge how good this band is on a full length album, but my gut tells me, the best is yet to come.

Questions or Comments? Email Dave by clicking
here
.