Chris Caffery - Faces

© 2005 Black Lotus Records

Reviewed by Dave Palmer

Like others, I was very interested in what longtime Savatage guitarist Chris Caffery was going to do with his solo effort. Alot of efforts by musicians branching out yield some very experimental albums to say the least. I wouldn't throw this album into that category by any means.  This album is just great hard rock and metal. I say both because some of it tends to be pretty heavy while other tracks lean a bit more accessible. The music while it doesn't sound alot like Savatage, doesn't stray very fair in terms of tempo. Don't go in expecting more Savatage, just expect a great ride of heavy music that will satisfy your appetite. What I found interesting about the release I picked up was the addition of a second album titled 'The Damn War'.  I have to be honest, I dove into the second disc first. I tend to find interest in politically motivated material, and there is a fair amount on the second disc. Tracks like 'Saddamize' or 'God Damn War' will get your interest in a hurry. The latter of the two being the albums intro and setting a tone in style and substance. What really drives both of these albums is Caffery's great guitar work. Another point to be made. If you ever wondered how Caffery was as a songwriter, you'll figure it out in a hurry with this release. He's definitely sound. On the first disc, the main album, there is a decent mix in tempo. There are some acoustic based numbers, but that doesn't necessarily mean they are light in tempo. The majority of this album is in the mid-tempo heavy area. The second album is the atmospheric album. yeah, it's heavy but has a moody element as well. Overall, the second disc complements the first very nicely. Favorite tracks from the first disc include 'Faces', 'Pisses me Off' which I found humorous, 'Life, Crazy Life!!!', 'The Mold' and 'Abandoned'. From the second disc I would include 'God Damn War', 'Edge of Darkness', 'Saddamize', 'I', and 'Piece Be With You'.

Overall

I found this release to be well thought out and delivered. This was definitely a nice package with two complete albums with two different feels. The first being atmospheric and heavy and the bonus disc being a bit more political and dark and moody. You definitely get a feel for why Chris is a nice fit into the band Savatage as well as his dealings with the Grammy nominated act Trans-Siberian Orchestra. You will definitely want to check this one out!

Questions or Comments? Email Dave by clicking
here
.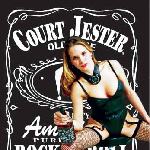 Court Jester - Gina

  © 2003 Azrael/Boehne

Reviewed by Dave Palmer

When I was discussing this indie band with some others in the industry, one thing became apparent. They are without a doubt one of the more ambitious traditional hard rock bands. This band to me reminds me of some of the hard rock that came out in the early to mid 80's. As a matter of fact, the track 'Stand Up' had me thinking a bit of mid 80's Ozzy in the harmonies. Now not to pigeonhole this band stylistically, they also have a bit of a modern edge in places with tracks such as 'Realize'. What the band have accomplished with this album is good especially when you consider that bands on this level don't have labels throwing big cash into production and the such. The album in quality terms sounds decent. As far as subject material, the band definitely latch on to what rock and roll is all about. No depressing themes like what infiltrated the miserable 90's era. It's all about the fun and as you get a look into the band and their music that know how to get down to the business of fun. Looking at some more of the music in general, the majority of the music has an edge. It can sound a bit more serious such as tracks 'Do We Just Surrender' or 'Low Down'. The track 'Give It Up' had me thinking early White Wolf in the sound. A bit retro which was cool. I really liked the vibe of 'All Hallows Eve' especially that halloween familiarity throughout the song. 'Black Widow' is a good track as well with some good sounding guitar rhythms and a bit of humor in the lyrics. There really is a great deal of consistency in the songwriting. If you like the album as it goes along, you may not find yourself going for the next track button much.

Overall

We like to check out young bands and releases on indie labels. You gotta remember that everyone has a starting point. You can gauge a band fairly well from their early material whether there could be a good future ahead of them. I think Court Jester has a shot. They have a ton of ambition and a decent album to get things going. Definitely some retro sound going on. I kept thinking White Wolf maybe due to the vocals at times. Some of the music is reminiscent of that time era. Keep an eye on these guys in the future.

Questions or Comments? Email Dave by clicking
here.