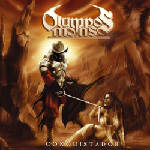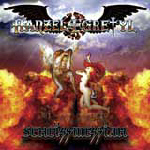 Olympos Mons - Conquistador

       © 2004 Limb Music Publishing

Reviewed by Dave Palmer

Every now and then and album comes along and completely blows me away. Well, the latest is from the band Olympos Mons. Write that name down. This band is solid and is one you are definitely going to want to remember. If I was to describe their sound I would probably mention the band Mob Rules mixed with the intensity of Primal Fear. Mob Rules had a way of mixing melody and intensity and this band does it equally as well. Pop this album in your deck and you are gonna see my point immediately with the opening track 'Seven Seas'. That song would be my first single from the album as it has alot of potential. This album is just warming up at this point though. As the band burns through tracks like 'Stars', 'Wanted Man', and 'Through the Ice and Snow', you get the feeling that they can keep up with the best of them. They aren't limited by quick numbers though. Take a listen to the more dramatic tunes such as 'The Last Light of the Moon', 'Black', and 'Cleopatra' and the bands dimensional approach shows a bit more. I really liked the album closer and title track 'Conquistador'. A bit of an epic in it's own right and showcases the bands technical ability. These songs on this album are absolutely amazing, memorable and should appeal to most fans. I like the background vocals that are here and there throughout the album as well. Adds an other dimension to the music. Very cool release!

Overall

This album just flat out rocks! Very good melodic tunes with some intensity thrown in to round it out nicely. This may be a late entry into the top albums of 2004, but you can be sure it will be there. It's one of my most played albums currently for me and I will definitely give it my high recommendation! Now go out and get it and let me know what you think!

Questions or Comments? Email Dave by clicking
here
.
Hanzel und Gretyl - Scheissmessiah

               © 2004 Metropolis Records

Reviewed by Dave Palmer

I had heard of this band before this release arrived, but I never had honestly checked them out. I was always a fan of more Industrial sounding metal such as Ministry and others like them in the early 90's. Quite frankly, it is one of the few domestic sounds of that era I really even did like and I won't profess to have liked it all. Hanzel und Gretyl have been around for a bit now and have converted me to their sound with their latest release 'Scheissmessiah'. Most of the music is pretty heavy and may not appeal to the more traditional fanbase due to the loops and such, but the guitar work is what caught my attention. Nothing overly technical, just sounds great and is very catchy. Some good examples would include 'Kaiser Von Shizer', 'Disko Fire Scheiss Messiah', and 'And We Shall Purify'. Very heavy tunes that have the ability to suck you in. If you are looking for the sounds that have the dance beats mixed with heavy guitar, there is one here. Check out 'Blut! Sex! Fire!'. The rest of the music is straight forward with some interesting sounds and loops that make this a very interesting release. The intro and outro are cool and tie the album together. I found this album pretty damn consistent in quality, but varying a bit in style which makes for a decent listen. Some industrial albums of the past seemed to get pretty redundant, but not this one. It comes across as pretty entertaining.

Overall

If you thought this style of music was dead, think again. This band gets it done very well. The music is appealing especially to fans of Industrial. There may be a bit of crossover potential to the traditional fans, but that is if they open their mind a bit due to the loops. I found it very cool as I have liked Industrial for years now. We don't see a ton of it in todays market unfortunately. Definitely worth a listen in my opinion!

Questions or Comments? Email Dave by clicking
here
.