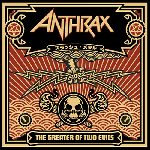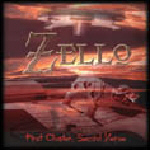 Anthrax - The Greater of Two Evils

             ©  2004 Sanctuary Records

Zello - First Chapter, Second Verse

                     © 2004 Lion Music

Reviewed by Dave Palmer

Now I think this was a great idea. The latest from Anthrax is a reworking of sorts of some of the bands early material. Has it really been that long? Well, yes it has. John Bush has been in the bound for a little over a decade now. You've heard him sing some of the classic so why not? Lets revisit some of the old classics with Bush doing the vocal work. To make it even better, the band asked the fans before they recorded this disc to tell them what they wanted to hear recorded. The band took 14 of these songs and did a great job on the recordings. So what is different? Well, John Bush obviously, but I also sense a much thicker guitar sound on most of the songs. Probably due to limitations of the time the originals were recorded. I was really happy to see some of my favorite Anthrax tracks represented on this album such as 'Deathrider', 'Panic', and 'Gung Ho'. I really liked my music fast back in those days. Also, I think the inclusion of tracks such as 'Caught in a Mosh', 'A.I.R.' and 'Madhouse' were equally cool. I always loved the base lines on 'Caught in a Mosh'. The rest of the tracks are good, but I may have veered on some of them. I know it wasn't their song, but I always loved 'Got the Time'. Would've been cool to hear John Bush's version of that one. Overall, no complaints though. I liked most of Anthrax's music and feel that the fans did do a good job of representing me with the track lineup. Guess I should have voted, but unfortunately I was unaware of the voting for the track lineup.

Overall

If you are reading this, you probably have heard most of these tracks before. It's a beautiful thing. I did like Belladonna in the band, but found that John Bush really makes the music all the heavier with his vocal style. The track selection is great as my favorite thrashers are here as well as some other great material. Now what are you waiting for, go out and get this one!

Questions or Comments? Email Dave by clicking
here
.
Reviewed by Dave Palmer

Here's an interesting release. Swedish progressive band Zello had this album reissued through Lion Music recently and quite honestly, I had never heard this band until now. These guys aren't progressive in the way that bands like Dream Theater or Fates Warning are. I would start thinking more in the direction of Kansas, but maybe a bit heavier. The band have a pretty heavy Violin sound in their music. The music flows well and can be at times very visual. Apparently this album was released in 1996 and this particular overhaul features Janne Stark of Locomotive Breath. I felt the music was fairly sophisticated sounding, but not above the casual listener. It's a matter of knowing what these guys are about I think. I didn't until now. Sure, I had heard of them, but never investigated further. The Violin elements I think worked quite well. It really enhances the songs in places although with the violin, it is an acquired thing. You may or may not like it. I really like the way the album starts out. It makes my Kansas case for me. 'Fairy Queen' is the opener. Good melodies and a great guitar sound. The melodies really reminded me of what Kansas does. From there the tempos vary. There are a few short tracks such as 'Shades of the Crying Children' and 'Kelpie' that work to tie the other tracks together. I found the music to be extremely consistent in both style and quality. You may either really like this or really not.

Overall

My taste has changed quite a bit over the years. I am liking things now that I may never have years ago. This album is probably one I might have shied away from, but am glad I didn't. It is definitely gonna appeal to some and not others. If you are a fan of Kansas or Magnum, it's a good bet you will dig this release. Very cool and interesting at the same time.

Questions or Comments? Email Dave by clicking
here
.