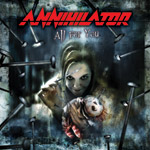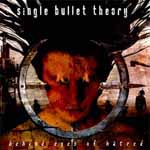 Annihilator - All For You

      © 2004 AFM Records

Single Bullet Theory - Behind Eyes of Hatred

                             © 2004 Crash Music

Reviewed by Dave Palmer

Annihilator is back once again with the bands latest offering in a pretty great run so far. The bands latest offering gives us new frontman Dave Padden. I look forward to each and every album that Jeff Waters and crew offer as I don't think I have run into an album I haven't liked to this point. 'All For You' is no exception. Good heavy tunes with a bit of a new flare due to Padden's vocal style. I have seen some bitch about it calling it nu-metal, but I say get over it. That is the very problem with todays market. Too many classifications. Hey, if it sucks, I'll be the first to admit it and believe me, this album is far from bad. The album starts out with the title track 'All For You' which has some cool vocal work. Two distinct styles show through and enhance the listen. I found the song downright catchy. You can view the
video
for this song on the official Annihlator website if you need a sampling. There is a high-res version and broadband would be recommended for it. The music is fairly typical of what Waters writes. It may not be the fastest he has written, but it is all good. There are some dark and moody rockers on the album such as the final two tracks 'Nightmare Factory' and 'The Sound of Horror'. There is a cool lighter in ways track titled 'The One' which is also one of my favorites. It is important to mention the shredders as well as their are a few.  Even though it takes a bit to get going, 'Dr. Psycho' really rocks.  'Demon Dance' is rhythm oriented and heavy. This particular track is probably closest to some of the other stuff the band has done in the past as is the track 'Bled' which reminded me of something of 'Refresh the Demon'.  'Both of Me' is one of my favorites. Love the hard driving rhythms. For those who have been bitching about the vocals, listen to the first part of 'Both of Me'.  It's apparent that Padden can sing and is injecting a style fitting of each individual song. The music on this album I think is pretty cool. There is also a track that is unreleased titled 'Weapon X' that is available for download by clicking
here
. If you listen to the title track and this unreleased track, I would tell you that the album is for the most part in between these two songs. I like it and have liked most of Waters stuff.
Overall

I really don't care what anyone says. I like it. I have seen some people say this is the bands best work since the early material and others claim they are writing the band off. I think if you take advantage of the video link above as well as the MP3 track, you can damn well decide for yourself. It rocks , has character, and keeps my faith in the band that they will continue to do what works. I think all fans of heavier metal should definitely give this one a try. Recommended!

Questions or Comments? Email Dave by clicking
here
.
Reviewed by Dave Palmer

Got another heavy one for you. Single Bullet Theory is gonna pick you up and give you a body slam. With members of Seven Witches, Pissing Razors and Shadow dance coming together, you know this one has got to pack a whallop. The band was mixed, engineered and produced by none other then James Murphy who also has worked with bands such as Testament, Death, and Obituary. In some ways the band comes across as old school thrashers, but there is also a more modern sound at the same time. Vocally, you get very aggressive and then a second later more traditional sounding. I think this bodes well for the band idue to it being a pretty good crossover record that will draw old fans and new fans alike. Looking at the music in particular, I think the album opener 'A View from Nowhere' sets the tone nicely. Has a traditional power metal sound as it opens and builds into a more frenzied state. Not the fastest on the album, but has a very solid thrash tempo. The music kind of varies from there, some faster, some with just a more steady grinding rhythm. 'Cold as Stone' is one of those tracks that grinds, then picks up the tempo and thrashes a bit. 'Retribution' tends to lean more aggressive both vocally and tempo-wise. 'In Sequence' is cool and quite different in places to what we have heard this far. Some melodic guitar work that builds as the rest of the album does. One of my favorites. 'Hollowed Out' reminds me at times of more modern Slayer with the machine gun rhythms it starts with. This song varies a bit in tempo from there, but is consistent with the rest. The track 'One Bullet' is probably the most laid back track although it has it's moments of heaviness. Overall it is fairly melodic with vocals matching.  The tempo continues through 'I of the Enemy'.  Another favorite of mine is the next track 'Needle' due to the rhythm work. I am always a nut for hard driving rhythm work.  'The Hurt That Never Ends' follows and once again leans pretty heavy.  What comes next is really cool. How about a cover of Metal Church's 'Badlands'? I loved the original. Thought it was a progression for Metal Church and Single Bullet Theory does a great job covering it. I've heard bands butcher other bands tunes, but this one was done tasteful. The final track on the album, 'Shade of Things to Come' is one of the finest tuned tracks in my opinion. Still heavy, but has a bit of finesse in the playing which was cool.

Overall

I probably don't have to say this, but if you likie it lighter this band will not appeal to you. If you liked Pissing Razors, Pantera or the such, this is definitely more along your lines. Very heavy stuff with a traditional thrash sensibility. Only a few slowdowns on the album that don't typically last too long. These isn't an all out speed metal style disc, but does grab you once in a while. Good heavy stuff to sink your teeth into.

Questions or Comments? Email Dave by clicking
here
.