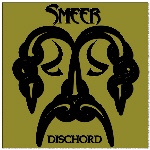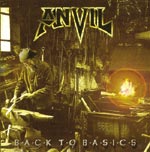 Anvil - Back to Basics

©  2004 Escapi New Music

Smeer - Dischord

   © 2004 Lion Music





Reviewed by Dave Palmer

Seems like we just got done reviewing Smeer's debut effort via Lion Music just recently and here comes the bands latest effort 'Dischord'. It's quite a bit like the bands debut effort, but I think the band have grown with this release. There seems to be a decent balance between the heavier and lighter tracks which provides a decent listen. While there is nothing groundbreaking, the band does kick it up a notch from the last album and really deliver. Looking at the music on the album, it wastes no time in getting going. 'Broken' revs up and sets the tone for the larger portion of what is to come. 'Down' is a bit of a mover chart-wise for the band. It falls into a mid tempo with some heavy moments that tend to be ctachy and memorable. I like the groove in tracks such as 'Shame On You' or 'So Wrong'. There are also some more thought provoking numbers such as 'Seed' and 'To Your Sons'. 'Seed' Returns after being in the track lineup for 'Loud and Clear'. It's a great track and would probably give the band another chance with it in other markets. 'To Your Sons' is a gem and looks at the reasons we send our sons to war. If you agree or not with the position of the song, you'll have to admit at how well written it is nonetheless. This band has alot to say overall and has the possibilities of doing some amazing things in the market if they are handled properly from a promotion standpoint. I see where alot of people slam them into a Nu-Metal category and to a point I might accept that. I do think the band is breaking down those barriers however as we move out of that scene and I think they have enough energy that they should be able to overcome tags such as that. Another solid effort with this album.

Overall

This is one of those bands that has their shit on the ball. Some of the music is heavy, almost more modern Metallica heavy. They have a gift of getting a vibe injected into each song that makes you remember each track after you listen to it the first time. There are some good heavy numbers and some very well written softer songs as well. The band could really draw from either tempo when looking for singles. Definitely don't let the Nu-Metal tags fool you with this band. They are more than that and shouldn't be missed!

Questions or Comments? Email Dave by clicking
here
.
Reviewed by Dave Palmer

It's hard to believe that this band is still bangin' 'em out. I don't mean that in a bad sense either. These guys have been releasing albums for the last couple of decades and then some. Well, the bands latest is titled 'Back to Basics' and continues the Anvil sound. One thing is safe to say here, if you are familiar with Anvil, you already know what you are gonna get. To prove this point I will mention the opener 'Fuel for the Fire'. Heavy stuff in the traditional hard rock and metal sound of the eighties. It really stays consistent from there. Anvil wasn't really know for writing love ballads so you know that just about everything on the album is gonna have an edge to it. The only song that really could fool you is 'Cruel World'. It has slower parts to it, but picks up the tempo and ends up in the same vein as the rest of the album. One of the fastest tracks on the album and one of my favorites is 'Fast Driver'. This tune is the most explosive on the album. To make this package even more complete is the bonus dvd of the bands performance at Wacken in 1998. This is a definite nice bonus and at times had me cracking up. Especially in the track 'Five Knuckle Shuffle'. Just that songs content and the way that Lips comes across singing it shows the humorous side of the band. The dvd has 9 tracks on it and once again is a nice addition to the release I recieved. This band definitely has always had their own thing going. I can't think of too many bands that had me making comparisons with this longtime band. The music on this release is decent. It's not over the top great, but will definitely appeal to the fans who have been following this band through their rather lengthy career. It still kills me that Lips has carried that name as long as he has.

Overall

A decent effort from a band that has seen many trends come and go without trying to be a part of them. The music is very consistent which is one of the albums highs. It's mainly heavy which is what the fans will expect and want anyway. There is also a bonus dvd of the bands live performance at the Wacken festival in 1998 which is fun to watch. I'm not sure how many discs contain the bonus dvd so if you like these guys, I wouldn't waste too much time grabbing this one.

Questions or Comments? Email Dave by clicking
here
.