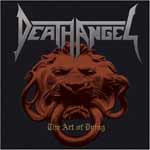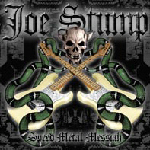 Death Angel-The Art of Dying

      © 2004 Nuclear Blast Records

Reviewed by Dave Palmer

You know, it really amazes me. I was browsing around the web for the latest on these guys. I found reviews, some favorable, some a bit indifferent. Nobody really dogged it that I saw, but in the last few years wasn't everyone pissing and moaning about how they couldn't get this kind of good shit? Then it comes along and they nit pick at it. Oh well, I'll give it to you straight. This album rocks. The band is back together and are gracing us with metal just the way I like it. The album opens with a riff-fest with 'Thrown to the Wolves'. Things are definitely looking good at this point. Followint the trend set by the opener is '5 Steps to Freedom'. Has a killer thrash groove to it. So now you would think it would be time to slow down? Heck no, lets thrash it out a bit with 'Thicker Than Blood'. Killer vocals and attitude on this one. Reminds me of the good old days. Now we slow down but only to a pulsating riff rock track. 'The Devil Incarnate' has a good solid metallic sound that builds in intensity. One of the finest tracks on the album. 'Famine' is kind of in the same ballpark as the last track in a way. Not really thrashy, but groove laden with some cool intensity. Another track that builds into a cool finale. The tempo once again stays the same or close to it with 'Prophecy' and the track 'No', But then builds back to the quick riff with 'Spirit'. The solo section of this song reminded me alot of Iron Maiden. Sounds really good. 'Land of Blood' would've fit very good with the first three tracks. Very similar riff rocking intensity. You cannot keep from headbanging on this one, I guarantee it. 'Never Me' is a rocker that is consistent with the middle section of the band. Heavy but not really fast. The final track is a gem. Tempo changes from melodic to slightly heavy giving it good balance. Definitely one of my favorites.

Overall

So there you have it. This album rocks. The band is not trying to reinvent the wheel. The know how to get it done and apply that theory here. While this album isn't a speedfest, there are some tracks here that turn it up a notch. I welcome the band back and think they have done a great job with this album.  After all these years, they still know how to get the job done! Recommended!

Questions or Comments? Email Dave by clicking
here
.
Joe Stump-Speed Metal Messiah

                   © 2004 Lion Music

Reviewed by Dave Palmer

My first intro to Joe Stump would probably have been the Reign of Terror album 'Sacred Ground with Mike Vescera. I was already a big fan of Vescera from his days with the power metal band Obsession so I was definitely interested in 'Sacred Ground'. What I didn't realize is that I would also become a big fan of Joe Stump. He absolutely blazed on some of the material from that album. That brings us to his current release 'Speed Metal Messiah'. I figured he was gonna really tear it up on this release and I definitely wasn't wrong. You really need to take the title of the record seriously. He really puts on a speed metal clinic with this release. The album opens up with the short neo-classical shredder and title track 'Speed Metal Messiah' and then explodes into 'The Red Priest' which is very melodic speed metal sounding obviously. It isn't just the soloing that is in a frenzy but the rhythm guitar work and the bass as well. Not changing the pace to much is 'Eastern Beast'. 'Weapon of Choice' is a favorite due to my love for power metal. The song is rich sounding with great background additive. Moving on we get 'Reflection' which is knid of a mix of the 2 sounds on the album to this point. The album progresses and retains the consistent sound with the exception of 'Unleashing the Fury' which is more of a guitar solo than anything. Not put together sounding like a live solo, but is a guitar only presentation. Also, the track 'Psycho Shred Suite' has kind of a blues vibe to it. It should be noted that the album is instrumental in nature and is definitely consistent throughout. The album really is a clinic showing off the talent that Stump has.

Overall

This is definitely a cool release, but may only work for fans of instrumental. If you were wondering what Stump was made of and had not heard any of his previous releases, you'll find him to be a very worthy guitar hero type of player. I liked the consistency of the music on this release. Definitely a shredder!

Questions or Comments? Email Dave by clicking
here.