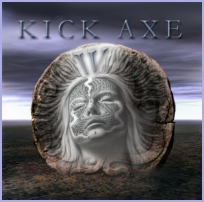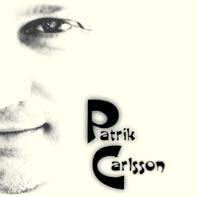 Kick Axe - IV

© 2004 Songhaus Music

Patrik Carlsson - Phraseology

               © 2004 Lion Music

Reviewed by Dave Palmer

You know, there are alot of bands you would expect to do reunion stuff and some may not be as welcome to as others. Alot of the reunions I have seen in fact are actually not reunions due to only one or two original members. That people does not classify. Then there are the bands you would never expect to reunite. Kick Axe was one of them. Well, how wrong I was. It's been a very long time since we saw a studio album from these guys. 1987 to be exact. Well, I guess you can never write anyone off, because the band is back. With on exception though so let me explain. The Kick Axe albums that everyone came to love had George Criston on vocals. Due to other commitments Criston wasn't involved in this album. Now before you hit the panic button, back is original vocalist Gary Langen. Yes, there was a vocalist before Criston and he sounds pretty close at times. Other than that this band is fully intact with Raymond Harvey returning to the fold after his absence on the 'Rock the World' album. So how is this bad boy you might ask. Well, I think it's pretty good... and pretty different. The album to me was a two spinner. Meaning...I had to do a second spin to really get into it. Now I like two spinners, because I find that they last much longer without growing old like the first spin type discs. The music is very diverse which one would expect from Kick Axe. You don't really get much in the way of 'Vices' on this record, but there are moments similar at times to 'Welcome to the Club' although I wouldn't say it goes even too deep that way. It's its own little personna so to speak. The album starts off with the rocking track 'Right Now' and then goes into a mid-tempo groove with 'Rockin' Daze'.  The album then slows down a bit with 'Consolation'. You get an immediate feel for the quality of Langen's voice with this track. He really is a good vocalist. Moving along we get 'Turn to Stone' that mixes some great melody with some solid edge. One of my favorites is 'Do You Know'. This song is intense with some great drum and percussion work, but also has a fair amount of melody. 'Who Knows Ya' is a groove based rocker that adds some cool depth. 'Woe' is equally catchy with the Hammond organ adding a nice touch. 'Time' is one of those tracks that reminds me of 'Welcome to the Club' especially in the choruses. Another favorite would be 'Slip Inside My Dream'. This track has a very cool bassline in it and overflows with a ton of melody. The album then rocks through the next two tracks 'Who Says' and 'Rock 'n Roll Dog'. Pretty straight forward on both. The album closes in a very melodic nature. Very good vocal parts adorn these tracks. The band was always known for the vocal harmonies and the final three tracks 'Black Heart', 'City Lights' and 'The Only Ones Here' are no exception. Very good stuff in my opinion.

Overall

Don't go in expecting 'Vices' with this album. This album is quite different from what the band has done in the past. I don't mean these guys are trend jumpers either because that is the farthest thing from the truth. It's Kick Axe all the way. Criston doesn't sing this record, but Gary Langen does a wonderful job. I was skeptical going in and came out pleased. Langen was the original vocalist of the band early on. If you keep your mind open, there is a helluva lot to like here. Recommended! Welcome back guys!

Questions or Comments? Email Dave by clicking
here
.
Reviewed by Dave Palmer

Swedish guitarist Patrik Carlsson releases an instrumental album containing 15 very diverse tracks.  Carlsson has been playing for a while and is definitely influenced by Steve Vai. He admits this in his bio. With that kind of an influence you know how diverse I might be talking about when it comes to his track lineup. I think Carlsson has good technique in his music and has a way with his writing to make it fun to listen to as well.  This definitely can be a rare feat to accomplish as there are a lot of instrumental guitar hero types out there and a very finicky fan base. One of the hardest markets to break into for sure. Lets take a look at the music. 'Jimi's Tribute' opens the album and the comparisons to Vai are apparent immediately. By the second track things change a bit as I mentioned. 'The Survivor' has an equal intensity of rhythm and lead. Then is slows down a bit with the track 'Still Believe'. This is exactly why I like this disc.  We are three tracks in and have heard three different sounds. 'Still Believe' comes off sounding like something Satriani may do. Has that finesse to it.  Now you might think that 'Twilight Zone' would sound one way, it doesn't.  This tune embraces a quick picking country sound. You are starting to see the diversity I was talking about.  'Aeryn Sun' is laid back in nature and then the groove kicks in with the funky 'Epsilon Indi'.  Maybe a slight touch of tribal. The track 'High Pitch' continues groove with a Vai sounding flair to it. Kind of a clinic on how to do a solo with effect added in. Sounds pretty cool.  Next we have more funk for you with 'Mosquito'. I always liked a bit of funk in my rock. Once again sounds a bit Vai - ish. You gotta love the harps in the appropriately titled 'Guardian Angel'. This song has a very catchy beat to it that makes it instantly accessible.  'Supernova' is kind of like a soundtrack to a dream. Very light and dreamy in nature. One of the lightest tracks on the album, but equally as good. Had me remembering Gary Moore's 'The Loner' for some reason. Maybe it was the slight build up in tempo. Very solid track. 'Exotic Bossa' would have you thinking island music right away, or at least thats what it had me thinking. The sound is kind of exotic sounding and experimental, and maybe a bit progressive. Next up, 'Smooth Rider'. This track almost reminds me of something you would here off of a David Lee Roth album, just minus DLR. Could be that familiar Vai sound?  'Andrea, It's X-mas' is interesting. Has the Christmas vibe which is a no brainer. Maybe seasonal listening. One of my favorites is definitely 'Lisa's Passion for Heavy Metal' Gotta love those grinding rhythms mixed with a flurry of solos. Very intense sound for an instrumental. Then we get to the last track. This one is a hoot. 'Cartoon Hippie' is it's name and having fun is it's game. Narrarated by the cartoon hippie I presume and just an all out funkadelic sound. Probably the funnest track on the disc!

Overall

I am just like everyone else. An istrumental album has to stand out. This album definitely does. I went track by track for a reason. To show diversity and also, because I really liked everything I heard on the disc. Carlsson is not only a talented guitarist, but is also a gifted songwriter. As I mentioned, there has to be something a little extra than just showing off to bring in more fans than normal and this album has the possibilities of doing just that. Very nicely done!

Questions or Comments? Email Dave by clicking
here
.