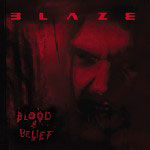 Blaze-Blood and Belief

© 2004 Steamhammer Records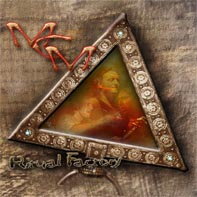 MCM-Ritual Factory

     © 2004 Lion Music

Reviewed by Dave Palmer

Former Wolfsbane and Iron Maiden frontman Blaze Bayley returns with his latest outing 'Blood & Belief' I don't know if you have been paying much attention to what Blaze has been doing since his departure from the mighty Maiden, but it has been quite impressive. The vocals are definitely familiar, however this album really doesn't sound like Wolfsbane or Maiden. The music is fairly aggressive with a dark tone. I think this is where Bayley is at his best. The opener 'Alive' is pretty good at representing the album as a whole. The basic tempo in this album is in the area of this track. Sometimes a little faster and a little slower at other times. I think vocally he is doing a good job as well. Blaze's vocal style definitely wasn't Dickinson's in Maiden and that is where a few of the problems lie with that material. This material however is enhanced by his raw style of singing. The music on tracks such as 'Ten Seconds',  'Hollow Head' and 'Will To Win' are very guitar driven tracks. Very crunchy and at the same time catchy. There are a few tracks that embrace depth which rounds the album nicely. These tracks include the title track 'Blood & Belief', 'Tearing Yourself To Pieces', 'Regret' and 'Soundtrack Of My Life'. I'm not talking about Pink Floyd style depth here either. Just a different spin on the music instead of just an album full of grind. Bayley has rounded it out nicely and provides a pretty decent listen.

Overall

I think if you've been holding out on Blaze, it's time to jump in. I think he's been doing a good job since leaving Maiden with his solo material and am not sure how much credit he has been given to this point. I think there is a fanbase out there but feel he deserves a bit more. Another good release of metal based music. Recommended!

Questions or Comments? Email Dave by clicking
here
.
Reviewed by Dave Palmer

MCM? Just who the hell are they you might ask. I might be able to help. MCM features Alex Masi, Randy Coven, and John Macaluso. Just looking at the names you might immediately think of a noodle session record. You'd be right too. However, this is a noodle session record with some decent composition skills. Take for instance tracks like the atmospheric 'Sadhu's Jewel'. You might envision a certain element with this track due to it's visiual nature. Yes, music can be visual. This tune for me had me thinking camel's and desert sands due to the slight arabic sound used. Maybe I'm up in the night but music is generally there for each individuals interpretation and I think that is where MCM went with this title. The music gives the players the ability to shine in presentation and the listener to go on a journey of thier choosing. These guys really gel on tracks like 'Ghost In My House'. Short little bursts in some of the percussion matching the bass and Masi's guitar. Another solid point to make is the variety. Not really talking about styles more than sounds. Like the track 'Brozo' with it's funk oriented sound or the track 'Black Market' which has a peppy vibe to it. Kind of a happy sounding tune. The band have mixed some very cool elements into this release to offer up the variety in sounds and really have done a masterful job for an instrumental release. There really is some interesting things going on with sound especially in 'Ray-Gun' or the closer 'Red Quantum'. If you didn't think these three guys had it in them to write music in this vein...think again.

Overall

This album to me is a slightly progressive instrumental joyride. These guys really have a chemistry and have put together some very good music. The only thing that scares some away is the instrumental part. People seem to be partial to vocalized music. That's okay as I think there still is a market for this type of stuff and this is one of the better albums I have heard in this genre from a creativity standpoint. Each song has it's own personality. A very diverse and solid listen.

Questions or Comments? Email Dave by clicking
here
.