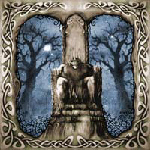 Finntroll-Nattfodd

© 2004 Spikefarm Records

Reviewed by Dave Palmer

Spikefarm's Finntroll release a new album as well as an ep titled 'Trollhammeren' which are definitely cool for various reasons. This band without a doubt has to be one of the most unusual but infectious and catchy bands I've heard in a while. Finntroll embrace a sound that I would classify as thrash folk. No kidding. Now don't run away from hearing that description either. I remember listening to the bands new album for the first time and popping a big grin. The music is like Lord of the Rings meets Megadeth of old. Fast folky catchy stuff that most that I played it for couldn't help but like. The ep which isn't discussed here features a track or two from this album and has a few extras that are cool. This album features 10 tracks that equal each other in intensity and style. The titles are all Finnish and quite frankly, I don't speak it. I'm not gonna pretend I know what is going on in the lyrics. The music kinda speaks for itself. The album starts out sounding like any other heavy metal act, but hit the mid section and all bets are off. 'Vindfard/Manniskopesten' will let you know right away it is not the typical. My favorite demo track of this album is the second song 'Eliytres'. Starts off very folky on the keyboards and then hits the nitro. Doesn't lose it's focus either. Still stays in a very quick folk rhythm. The album continues in the general fashion with tracks such as 'Trollhammaren', 'Nattfodd' with its large sound, 'Det Iskalla Trollblod', and the very light acoustic closer 'Routas Vaggvisa' would be my favorites. The latter is almost humorous due to it's light nature considering the barrage of the rest of the album. It's definitely different, but I like it. This album might surprise some. While it won't be for everyone, it definitely will appeal to its fair share!

Overall

Definitely a surprise for me. Never thought I would dig folk flavored metal. Actually, never thought something like this existed. I know, I know. There is some music that embraces a bit of folk, but this is elves and trolls dancing around the fire folk. Get my point. I think these guys will have their fanbase, but the more people I play it too make you wonder. Most have liked it. Definitely unique and cool.

Questions or Comments? Email Dave by clicking
here
.
Reviewed by Mike King

Guess as long as there is life on earth there will always be reincarnations of the late and great master of the six string,Jimi Hendrix. Many have taken a stab at imitating the master and have done quite well at it too like, Stevie Ray Vaughn and Frank Marino of Mahogony Rush.  Of course not everyone could or should even dare to attempt such a feat unless they truly have part of Jimi inside them.  "The Spirit Lives On " is a testament that the Hendrix legacy has indeed survived the new millenium.  If you are a die hard fan,  you will enjoy every mouthwatering minute of this compilation.  If you never were,  just listen to this album and I promise you'll be hooked.  These arrangments are tastefully performed by some very talented musicians such as Ritchie Kotzen,  Randy Coven,  Mistheria,  JoopWolters, Carl Roa and a lot more. Much of the approach to the songs are fresh and modern.  As well there is plenty of guitar shredding,  freeform rhythms and risk taking,  of course that is what Hendrix was all about.  He deliberately broke the rules and even broke new ground while he was alive and his spirit is still breaking ground through these fine musicians.  One impressive moment on this CD is Randy Coven covering the "Star Spangled Banner" on the bass.  I honestly thought it was the guitar until I read the credits.  Alot of other familiar songs like "Foxy Lady, Fire, Stone Free, Freedom and the instrumental covered by Carl Roa-"3rd Stone From The Sun".  All I can say is that Jimi has got to be looking down at the world right now with a big grin on his face seeing the great musicians he has influenced who are keeping his music alive.  Of course this doesn't end here.  Volume 2 of "The Spirit Lives On " will be release this summer, so be looking for it.  In the mean time Volume 1 will fill your gizzard with some awesome guitar filled, soulful, spirited rock music.  You really can't go wrong with this one.

Overall

Whether or not you were a Jimi Hendrix fan or not I suggest you give this album a spin.  It's full of the masters biggest hits covered by some of rocks finest musicians and bands like Arabesque, Sun Caged, Regi Hendrix, Greg Howe and others.  It's fresh and up to date music that just simply rocks.  Every artist has put their magic, heart and soul into each song and then cranked it up a notch or two. You've heard these songs over and over on every classic rock station 'round the world but never like this.  If you've always wanted to pick up a Hendrix album and didn't which one to get or just couldn't find it, well this is the one you want.  This is Hendrix at his finest, if only in spirit.

Questions or Comments? Email Mike by clicking
here
.
The Spirit Lives On-Music of Jimi Hendrix Revisited Vol. 1

                                          © 2004 Lion Music