Soil-Redefine

© 2004 J Records

Reviewed by Dave Palmer

Well, I recieved this disc, but really wasn't sure what to expect. When it comes to modern metal bands, I admit to being a bit gunshy. The 90's was pretty pathetic in my opinion and we are slowly getting away from the nonsense of that decade. Not that we are going back to the 80's sound either. Music is now getting a bit more ear friendly for some of us vets. Soil was one of those pleasant surprises. The band definitely leans to a more modern edge, but have some classic sensibility as well. I found myself going backwards a bit in their catalog checking out some of their earlier material. While this isn't my favorite album by the band, (I prefer 'Scars'), it still has it's own merits. The music is heavy and builds on the previous material. Some of it is quite contagious such as the title track 'Redefine'. Short bursting rhythms with memorable choruses. Can't help but move a bit on this one. There are some moments that have you thinking early 90's such as Alice in Chains with the moody 'Can You Heal Me' which is quite cool. Same dark moody guitar sounds and Layne Staley sounding vocals. I personally was a big fan of Alice in Chains so I was happy here for sure. I would say my favorite element of this album is the guitar rhythms. This band delivers some very catchy rhythm work that will have you pulling out your air guitar. Consistency definitely permeates this release. The music is definitely similar throughout and pretty decent. It may not appeal to fans of 80's metal, but if you go in with an open mind as I did you might come away with something you thought you might not have liked. Some of my other favorite tracks include 'Cross my Heart', 'Suffering', the attitude driven 'Deny Me', and 'Love Hate Game'.

Overall

Wasn't sure what to expect, but came out satisfied. The band have put out a good effort that will probably do well commercially. The music is infectious and memorable. The band have some of the sensibility that made acts such as Alice in Chains successful. Consistency is one of the albums best attributes. Good flow of songs and good delivery. Good stuff!

Questions or Comments? Email Dave by clicking
here.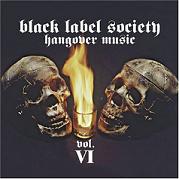 Black Label Society-Hangover Music Vol. VI

                         © 2004 Spitfire Records

Reviewed by Mike King

Zakk Wyldes Black Label Society has graced us with yet another killer album.  This one leans toward the mellower? side of the spectrum and takes the edge off the metal norm.  Hangover Music  Vol. VI is definitely an album that you listen to with a few friends over for barbeque and beers.  Or maybe at those times when you just need to kick back and fall into a state of nothingness.  This album is almost threraputic in a way.  I've always been a fan of acoustic metal for that reason.  Black Label Society has mastered that blend of acoustic guitars and occasional grand piano and mixed it up with dark sided lyrics and massive Zakk Wylde trademarked guitar riffs.  Even though alot of the rythym guitars are acoustic, I believe Zakk has cranked out some of the best solos of his career on this album.  Zakk has surrounded himself with a great support team as well with Mike Inez and James Lomenzo

on bass and guest drummer John Tempesta on drums and others who compliment him in this effort.  Not enough could be said about the man and his mega talents.  Zakk is equally an excellent piano player as well as guitarist/singer/songwriter.  He proves he can get around the ivory keyboard on several tracks including his cover version of Procal Harum's "Whiter Shade of Pale".  I think his vocal efforts on HM VI are more soulful and from the heart this time around.  It's as if he is living or has lived every story being told.  I give major kudos to the band for taking a chance on this album and approaching metal music from another angle.  In a way I liken it to Alice in Chains "Jar of Flies" but Alice in Chains never really added the dark and heavy side to their mellow album that Black Label Society has to this one. To some,  this album may be disappointing,  but to die hard Zakk Wylde fans this work is just another chapter in his distinguished career.  It showcases Zakk's many talents as one of the all time greatest musicians that ever lived.

Overview

If you are hoping for another in your face,  tear your heart out metal album you've come to the wrong place.  Hangover Music Vol. VI,  though heavy and dark at times it not aggressive at all.  This is an acoustic album that features the many talents of one of rocks greatest and memorable guitarists of all time,  Zakk Wylde.  It does have some great music on it and is definitely worth adding to your collection.  This is an album that you can play while you have guests over and won't have to shout over yet still impress them with your taste in good music.

Questions or Comments? Email Mike by clicking
here.