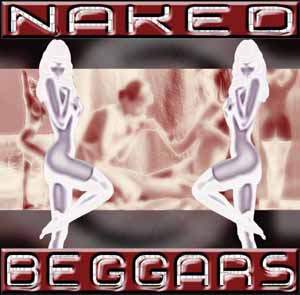 Naked Beggars-Naked Beggars

             © 2004 Naked Beggars

Since boarding the HMR ship I've reviewed several CD's from international acts in the heavy metal/progressive rock genre.  Every now and then I've covered some straight up rock bands like Australia's Jet or the ever popular Aerosmith,  but I'm excited to be the one to introduce you to America's newest rock band "Naked Beggars". This band offers raw, high energy raunch and roll in the same vein as AC/DC or Jet with catchy hooks and riffs that keep you wanting more. Cinderella's bassist Eric Brittingham is the project manager of this Nashville based group.  He not only offers his mega talent as a musician on their debut but he produced,  engineered and mixed this rocker.  He's not the only family member of this outfit though. His wife

Inga is a founding member and lead singer of this band of rebel rockers.  She is a powerful vocalist that definitely holds her own.  She is nothing like the wimpy assed chick singers that we've had to endulge over the past decade or so.  She has that same rock soul that singers like Pat Benatar or Lita Ford has.  She can really tell it like it is on songs like "Bitch" and "No More".  The guitar work is raw and crunchy, kind of a Les Paul plus Marshall amps equals pure gut wrenching rock and roll.  Kris Casamento( cofounder) and David"Doc" Holladay are the master six stringers.  They have created catchy riffs and melodies that increase the intensity of the album and compliment Inga's vocals.  Jeff

Lebar,  also from Cinderella, adds his touch as guest guitarist on "Bitch".  Eric along with drummer Dustin Carpenter keep a solid rhythm section with good driving rock beats with a modern flare.  Backing vocals and chorus lines add that little extra something that is lacking in most of todays rock music.  Track six "Got Me Runnin' adds a change in the scheme of things in way of a 60's style spy versus spy tempo complete with latin style percussion and a huge bluesy guitar solo. Track seven "Wastin' Time" is a radio friendly pop rock song with Hendrix style guitar work.  Track nine "Discombobulate" follows the southern rock format and really sucks you into the deep emotional factor in the story line.  Everything else is kickin' rock music that was meant to wake you up and get you on your feet.There are so many elements wrapped up in this album that keep you interested from start to finish.  From pure rock and roll to Hendrix style blues and funk to

power pop.  You'll want to listen to this one over and over.

Overview

When Eric sent me this CD he said that Naked Beggars music didn't really fit into the Heavy Metal category.  Well in my book there are only two kinds of music--Good and Bad.  If it's good then it makes it on HMR. If it sucks---well,you won't find it here.  Naked Beggars express all the elements that make up a great rock album with something a little different and special--a female singer that sings with real heart and soul.  This is one cd that you'll find youself listening to again and again. I'm pretty sure you'll be hearing from this band for a long time.

Questions or Comments? Email Mike by clicking
here.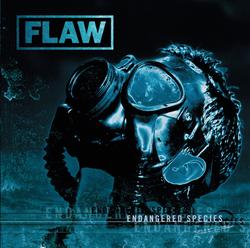 Flaw-Endangered Species

         © 2004 Universal Music

There always seems to be some of those bands from each metal explosion that have what it takes to stick around for a long time to come. Flaw in my opinion is one of those. The bands debut 'Through the Eyes' caught my attention and recieved a great review via this website. The band have a nack for writing great heavy music with good vocal prowess. So with a lineup change where do they find themselves now. In pretty damn good shape I'd say. The music on this album is quite more melodic than the bands previous effort. It is kind of like what Disturbed did, but not as extreme. Dave Draiman really went melodic on 'Believe' after really punching down walls vocally on 'The Sickness'. While Chris Volz was melodic and very good on the previous, he really kicks it up a notch vocally on 'Endangered Species'. The music tends to be a little more of a progression from 'Through the Eyes'. Each track shows more depth and song structure from the amazing debut. And I really liked the bands debut alot. Naturally I am very happy with what is here.  The album opener 'Medicate' sets the tone of the rest of the album. If you wanna get a feel for where the band is at, look no further than this track.  Actually, after you have got past this point, you wanna dive headfirst into the rest of the album. There is still a heavy edge as demonstrated on tracks such as the title track 'Endangered Species' and 'You've Changed', but melody is where it's at here. Take for instance 'Recognize' that starts very melodic and progresses into a light rumble or the awesome 'Wait for Me' which could be one of the bands best tracks. It's kind of like the 'Best I Am' of this album, but lighter. If the band was to throw that track to radio, they would probably have the potential of some large crossover success. Depends on whether they want that or not. For an overall feel, I think the album fits a midtempo category. Definitely not extreme heavy. This band goes more for depth and secures the bands reputation as a contender. If you though they were great, but so are most other bands on their debut albums, well, these guys have delivered twice now. Nice to see them progress and develop.

Overall

A very good sophmore effort from this modern band. There is a new sensibility to their music. More depth in this release. If you are worried about the lineup change, fear not. These guys are getting it done again. I kept their debut in my deck for a long time and still listen to it quite a bit. It's nice to have another album to put in and get more great music from a good band. Another Heavy Metal Resource recommend!

Questions or Comments? Email Dave by clicking
here.