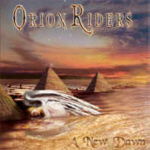 Orion Riders-A New Dawn

            © 2003 Lion Music

Reviewed by Mike King

Since the beginning of rock history, rock musicians have been thought of as untalented wanna be's who crank it to eleven so they can hide their mistakes in the garble.  My dad used to call it 'junk music'.  He has since changed his tune since his son (me) plays 'that' kinda music and has actually been to a few rock concerts. The last one was Tran Siberian Orchestra.  He finally admitted that rockers actually could play. Yeah, sure,  there are some simple minds out there,  but Orion Riders definitely proved to be one of the worlds more finessed metal bands. They are Italy's equivalent to America's Dream Theater or Fates   Warning or Germany's Helloween. 'A New Dawn' is the bands first full length studio release. It's also the first release with the new line up. Vocalist Joe Lambardo (a new recruit) rivals the best of the best. He has a very crisp, clear voice that carries in a high range and really delivers the message. Riccardo Failla teamed up with longtime guitar  wielder Antonello Condorelli to provide dual guitar work like Iron Maiden's Dave Murray and Adrian Smith.  OR's music is everything that metal should be and some, this album leans a bit towards a classical/operatic style which gives them a unique sound that is all their own. Tony Zappa, the bands drummer is also the bands keyboardist. He adds a full orchestration from symphonic sounds to grand piano ballads as well as earth pounding double bass and an assortment of other percussion goodies.  Carmelo Siracusa is OR's bassist and co-founder. He delivers a heavy bass foundation that accents Tonys drumming and compliments the melodies and firey riffs spun by Riccardo and Antonello.  Each arrangement fluctuates through heavy guitar riffs, symphonic lulls, mystic  orchestration  and soulful power vocals, choir like at times. This band takes you on a full circle through the metal universe with a wide spectrum of sounds that others wouldn't dare attempt. Being from Italy they definitely add a touch off the old world to the new. I'm pretty sure this band will become one of the leaders of the new metal revolution.

Overview

In today's world with so much music out there, it's hard to find a band

with a unique sound or style. Orion Riders has managed to create a blend of Roman Cathedral and classical music and added it to shredding guitars riffs and massive drum attacks. They are some of the newest kids on the block but they sound like true veterans to the metal world. I guarantee,  'A New Dawn' will fill that new sound void in your collection.          

Questions or Comments? Email Mike by clicking
here
.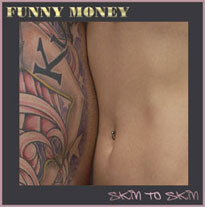 Funny Money-Skin to Skin

          © 2003 Funny Money

Reviewed by Dave Palmer

Looking back to some of my favorite bands of the 80's, I would have to without a doubt include Kix. The band was one of the most consistent and never really wrote a bad album in my opinion. After the band broke up Steve Whiteman went on to give Funny Money a go. The latest effort from the band is a gem. It has some of the familiar elements that fans will remember from Kix, but definitely has its own personality. One thing is for sure, if Steve Whiteman is involved, you pretty much know what you are gonna get. Good party rock 'n roll. 'Skin to Skin' is no exception. As usual with music Whiteman is involved with, it's always catchy as can be shown on tracks such as the album opener 'Bad Luck', the party starting title track 'Skin to Skin' which is one of my favorites, 'Sharp as Knives', the song that tells it with no BS 'I'm Your Whore' with it's familiar harmonica sounds, and 'Bump & Grind'. As a matter of fact, as one might expect the album is pretty catchy from start to finish. When I talk about the minor Kix sound in the music, I'll put it like this. If you played it for someone and asked them to tell you who it was, they would probably mention Kix without being totally definitive on their answer. There is no doubt that Whiteman's trademark is all over this album in the songwriting, but don't just look for a Kix clone because Funny Money have a good chemistry all of their own. It is also worth mentioning that former Kix skinpounder Jimmy Chalfant is handling the duties for the band currently. Nice to see some of these guys going at it again. The music is definitely gonna appeal to party rockers tapping the keg, but will also have a shot at some new fans due to the consistency of the songwriting. Not really a bad track to be found!

Overall

What can I say. This band features Steve Whiteman of Kix fame. That much will bring a decent fanbase. The music will also appeal to the fans that always bought Kix music. Funny Money has been around for a bit now and deservedly so. The chemistry is good and the band have a sound that defines them as their own entity. If you miss rock played the old school way, I am gonna highly recommend this title to you! Look below for more information. Highly recommended!

Questions or Comments? Email Dave by clicking
here.