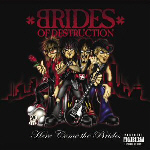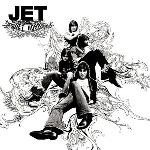 Brides of Destruction-Here Come the Brides

                  © 2004 Sanctuary Records Group

   Jet-Get Born

© 2003 Elektra Records

Reviewed by Dave Palmer

Well, we've been in a Motley drought for a bit so this might just be the thing to take a little of the edge off. The Brides of Destruction is a collaboration of Nikki Sixx and Tracii Guns. Also in the fold to round things out are vocalist London LeGrand and drummer Scot Coogan. You know this album is gonna have a decent chance of being good just due to the members themselves. So where would I classify the music. Well, it's not Motley Crue. It seems to lean a little towards L.A. Guns, but not totally there either. It's just a great rock and roll effort that will leave a lasting mark. The album gets kick started by sucker-punching you with the attitude drenched 'Shut the Fuck Up'. This track just gets down and rocks. Some may say it sounds a bit punkish. I would agree with that. As a matter of fact this album does have a punkish nature in a lot of the music on it. Take a listen to the second track 'I Don't Care'.  I like the grind on this track as well. 'I Got a Gun' is a bit more groove oriented which is cool. Changes the pace a bit. '2X Dead' continues and almost combines the groove element with the attitude shown early on. Instantly memorable. The album continues it's flow in this direction with 'Brace Yourself' and 'Natural Born Killers' with the latter being very catchy especially in the vocal parts. Could be one of my personal favorites on the album. The last three tracks 'Life', 'Revolution', and 'Only Get So Far' keep the consistency of the album while injecting their own personality. 'Only Get So Far' is another favorite and is a bit lighter and a very cool addition to the album and a decent way to close. Great harmonies and melody! I can't say the album was what I expected, but I am definitely happy with the results offered up. The band have a good chemistry and depending on what happen with Motley Crue and L.A. Guns, it would be nice to see this unit keep producing material.

Overall

Well, I figured this was gonna be good and it was. Being a big fan of Nikki Sixx from way back, I'm always interested in what he is up to and this band doesn't disappoint. I have also been following Tracii Guns from way back as well and this is definitely a dynamite combo. The songwriting is great and the music is memorable. What more can you ask for. Definitely check this one out!

Comments or Questions? Email Dave by clicking
here.
Reviewed by Mike King

I first saw Jet on Saturday Night Live a while back and I couldn't believe what I was seeing. A young band playing straight up, raw, unadulterated rock and roll. I knew there was something about these guys that says 'We're here to stay'. I started to hear their hit single 'Are Ya Gonna Be My Girl' on the radio, which quite frankly I don't really care much for what's being played these days but Jet has caught my attention. Now that I've had the chance to hear their cd 'Get Born' in its entirety I fully understand what it is about these four lads from The Land Down Under that I like. They're just being themselves. They are not playing by the corporate rules. They've pretty much told the industry to shove it and are playing the style of music that they grew up on. Their parents must have been ex-hippies or something. You can definitely hear elements of bands from the 60's and70's like The Who, The Kinks and The Faces in their music. Cross this with the powerage feel of AC/DC and you have some great rock and roll. The recording itself is tastefully done to include that 60's feel. You can hear the electric buzz in the amps and some of the outtake's were left in to give you the sense of looseness that was present in recordings like the Beatles 'Let It Be' album. These guys just plug straight into the amp with little or no effects on the vocals and rock out. On the tune 'Rollover DJ' Chris Cester plays the drums in the who gives a sh#@ attitude that made Keith Moon so famous while his brother Nic croons the vocals the way rock music is meant to be sung. The holds true on pretty much ever cut on the cd. Mark Wilson, the bands bassist plays his parts in that tight yet carefree style of John Entwistle. With Cameron Muncey adding his two cents on the guitar and vocals Jet has become the 21st centuries version of the Beatles. The band does slow done a bit on the piano ballad 'Look What You've Done'. They've captured a psychedelic feel complete with the dirty organ sound on the rocker 'Get What You Need'. On track six they've used the country rock sound  that can be related to The Stones or Neil Young including slide guitar and harmonica. The rest is pure heart and soul rock. Jet simply demonstrates rock and roll in its true form and offers something refreshingly different to today's mundane rock scene. Is it any wonder that the Rolling Stones have picked them to be their opening act on the road?

Overall

Jet is pure raunch and roll. They offer a great change to the rest of the stuff that us metalheads are used to and momentarily put us in with the mainstream crowd. I recommend this cd to evey one. It's a lot of fun and who knows, if we let our kids listen to this maybe we can keep the spirit or rock and roll alive forever.

Comments or Questions? Email Mike by clicking
here.