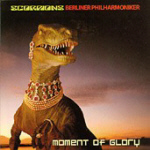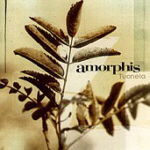 Scorpions-Moment of Glory

      © 2000 EMD\EMI Classics

So you think the well of creativity has dried up for all of those 80's bands, eh??  This album may not be entirely original, but injects some serious life back into the band after a very dull effort in 'Eye II Eye'. This album builds on what Metallica presented to us in the 'S&M' project. Bear in mind however, that this was an ongoing project of sorts that began in 1995. It took a long while to come to fruitation.

I wasn't as thrilled as most were with the Metallica project. I felt that the fast stuff should have been left alone. The slow stuff worked well and thealbum turned out to be a real mix of emotions. The Scorpions on the other hand handled it a little different. They do have the power rockers there, but the orchestra sounds very inter-woven into each track.  They make it sound like it was there all along. 'Hurricane 2000'  starts the album and really sets the tempo for the rest of the album.  You get a feel of the power of the Orchestra. 'Moment of Glory' chimes in next with a little different style of writing. Sounds almost native to their homeland to me. The album really starts to gel with tracks like 'Send me an Angel' and 'Wind of Change'These tunes really benefit from the rich sound the Orchestration adds. They were great tunes before and are now even better. 'Crossfire' and 'Deadly Sting Suite' are both instrumentals.  'Crossfire' is a very interesting piece. The Orchestra really takes control on this one and gives it a new personality. The 'Deadly Sting Suite' is definitelty the highlight of the album. It combines tracks 'He's a Woman, She's a Man' and one of my all time favorites 'Dynamite'. The Orchestra is not bashful at all in it's attempt to blend into the song and match the intensity. The album slows down again with tracks 'Here in my Heart' and mega hit 'Still Loving You'.  Both are very enhanced once again and sound very good. Kind of an interesting twist on 'Big City Nights', the next track is the lead vocals of Ray Wilson. Adds a bit of a different flavor, but retains it's trademark accessability. I couldn't have found a better way to close out an album than the way it does with 'Lady Starlight'.  This is another personal favorite of mine from years back. I love the intro put forth by the Sitar. Totally amazing!

A couple of interesting notes. The album is studio based and production is out of this world. The only wierd thing I saw was when I put the disc into my computer drive and ran it in Windows Media Player 7.  The album title was incorrect as were the song titles. Not sure what happened here. Kinda funny though.It says that 'Still Loving You' is actually 'Another Piece of Meat'.  You get the picture.

This album is very cool and worth the purchase.  I wasn't sure how interested I was in it before I picked it up, but was very glad I did after I gave it a spin. This one comes highly recommended.

Amorphis-Tuonela

© 1999 Relapse Records

I had heard that Amorphis had their roots in the Death Metal sound.  Not being a huge fan of that genre, I avoided their material up to this point.  I have a friend who had mentioned that listening to 'Tuonela' would be a surprise.  I still avoided. I was on MP3.com the other day and noticed that 'Divinity' from this album was the number one download and had been before that week. I downloaded it and could not believe my ears. These guys are really good!

Their sound is a bit hard to nail down, but early 90's Voivod comes to mind. You have that trippy psychadelic sound mixed with good vocals and excellent musicianship.

'The Way' opens the album and is one of my favorites with it's excellent guitar work. 'Morning Star' follows with another heavy rocker. 'Nightfall'  has got some very interesting elements. Included is a saxophone track that molds in and adds a lot of texture to the song. 'Tuonela' follows in the mid tempo with great vocals and is very well crafted. 'Greed' is next and is an interesting mix. Starts off dark and moody and builds into heavy with vocals I could do without. The music is very cool, but I've never been a fan of the cookie monster style of singing. This is however, the only track that it is used to any great extent. The tune leads into 'Divinity' which is excellent. Probably the highlight of the album. The vocals are great and the music is very catchy and memorable. 'Shining' is very dark sounding , but flows well. 'Withered' is very cool. Very haunting background vocals and song structure. It is interesting how creative this band is in a time where most bands are lucky to pull off three chords. They really stand out. 'Rusty Moon' adds the flute to the mix and gives you a bit of a modern Jethro Tull feel, although much heavier. 'Summers End' closes the album out in fine fashion.  Another haunting track with memorable choruses. One of the better tracks on the album.

I was very surprised with this album.  Didn't expect much and was delivered a lot. They are pretty hard to pidgeon hole stylistically. If you are nervous about buying it, head over to MP3.com and download a track and see what the buzz is about. Thanks go out to David J. for pointing this one out.