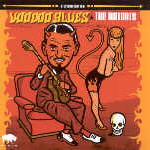 George Bellas-Venomous Fingers

                   © 2003 Lion Music

The Mutants-Voodoo Blues

          © 2003 Ranch Records

Here is an interesting album released via the Ranch label. Where the album isn't necessarily Metal, it is pretty cool in it's own way. The band write instrumental music with a groove. This album finds the listener getting a variety of things from it. For instance, you get a good dose of the classic rock sound of say the 60's on the opener 'Caligula'. This continues through 'High Ride' but with a different twist. There seems to be a south of the border sound. A groove rocker with a Sax sound to add to it. This sound flows on with the title track 'Voodoo Blues'. What you end up getting is an excellent flow from track to track. The band utilize drums as well as percussion for added effect. The thing that works well is how the band have a sort of 'Garage' sound. Nothing here would be categorized as overly polished. There is a raw sensibility. This band also defies classification. The title of the album is a good start, but there is a lot of stuff thrown in a blender and the output is a very unique trance inducing vibe with a groove. The album has 9 tracks of equally fun tuneage. Probably one of last years best kept secrets.

Overall

So why would I mention an album of non-metal content. Well, I'm sure that there are some of you that dig getting something very different and this is just that. It is instrumental in nature, but you don't feel like you are being bombarded by flash, quite the opposite. Just a good flowing album of rock tunes.

We definitely feature alot of bands from Finnish labels. I am fortunate enough to be taken care of well by the labels from one of metal's best scenes overseas. George Bellas releases his latest album 'Venomous Fingers' via Lion Music. The title of the album gives you a visual of what to expect from this album. In a nutshell, this guy is a wizard on the guitar. This album may not appeal to a mainstream crowd due to its instrumental nature, but musicians will definitely appreciate Bellas' technique. Compositions are technical with alot of flash and emphasis on the guitarwork naturally. Bellas is extremely fast and makes my fingers ache just listening to him. So how is the music overall you might ask? It's good too. Maybe a little to hard for some to understand, but George really paints a vison on some of these tracks such as the 2 part 'Symphonia' and the frantic nature of the appropriately titled 'Adrenalin Rush'. Bellas handles all guitar, keyboards, and Bass and I believe was involved in the drum work as well although not credited. This album is of high quality and see's Bellas showing why he has the respect he does.

Overall

A very solid effort from a master musician. George Bellas has it in all areas, songwriting, playing everything, and total effect. This disc will appeal to the technical crowd more than the casual listener due to its intense instrumental and technical nature. It's amazing how far guitar playing has come and Bellas is one of the reasons why.