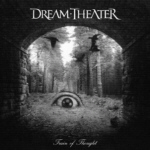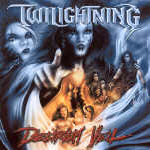 Dream Theater-Train of Thought

              © 2003 Elektra Records

Twilightning-Delerium Veil

      © 2003 Spinefarm Records

Dream Theater are definitely on of my very favorite bands. I look forward to each release knowing that the same core touch of the band will be there, but at the same time they are also ever evolving. 'Train of Thought' is no exception although the band seem to hit a few familiar notes from the past. If I was to point out what I think this album reminds me of it would definitely have to be 'Awake'. This album however is very heavy in tempo and guitar work. 'Awake' embraced the 'Drop D' sound that was so prevelant in the early 90's. This album has a very silmilar down tuning that adds a lot of edge. The usual finesse is evident as well as this band has a uinque ability to mix the two with maximum effect. There is to an extent a bit of a more modern feel as well. This contributes to the band and their evolving that I mentioned earlier. The guitar on the album is a real clinic of sorts. Lots of great rhythm work and soloing on songs like 'This Dying Soul'. Pretty relentless stuff. The album definitely has a over the top feel and this track will show you. As mentioned there is finesse and melody that is displayed on tracks such as 'Vacant'. What I find interesting is the vocal effects in 'This Dying Soul' and 'Honor Thy Father'. They are used for effect in my opinion, but we love to here LaBrie's vocals in the natural. Musically the album is wothout a doubt Dream Theater and will appeal to the hardcore fans of the band. I'm not sure if it will pick up alot of fans like the classic 'Images and Words' did, but it is a worthy effort with some top notch musicianship.

Overall

Once again the band put on a clinic and show why they are perhaps the best Progressive band out there. This album has a bit of an unusual vibe, especially in the tone. It sounds familiar, yet different. The band tends to offer up something different each time and have suceeded once again. It definitely can't be mistaken however....this is Dream Theater. Good stuff!

I really dig getting stuff from Spinefarm. I like most of what I hear and they have one heck of a versatile roster. In the latest batch of albums was 'Delerium Veil' from the band Twilightning. Initially listening to it I felt we had another Stratovarius as there are some similarities. There are just as many differences though. Twilightning has a much more basic approach which adds a good feel. The band definitely show their capabilities especially in some of the guitar work i.e. the solo on 'At The Forge'. The definite high point of the album is that it is not over the top in showoff mode as some bands delve into a little too much. You get a good sense of balance in this area. The band doesn't reinvent the wheel either. They have just put together a decent effort that offers up a consistent listen from start to end. Some of the tracks that caught my attention included 'At The Forge', 'Jester Realm' with it's great sounding choruses, 'Delerium Veil' which sounds a ton like classic Helloween, 'Under Somber Skies', 'Enslaved To The Mind', and the closer 'Masked Ball Dalliance'. The music on the album has a balance of 80's and 90's sound which really shines through and should please fans of both eras. The keyboards in a way lean more towards something the band Europe would do then Stratovarius or Helloween. Kind of a nostalgic sound that works really well.

Overall

Although some fans may come away saying that they have heard this kind of stuff before, there's no denying that it's catchy, melodic, and very enjoyable to listen to. If you look at the cover and think you have these guys nailed, I guarantee the chances are that you don't. Quality musicianship and great songwriting make this album a keeper. I would definitely recommend this album!