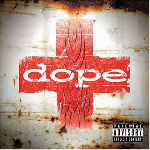 Dope-Group Therapy

   © 2003 Recon Records

Anand-Joy 4 Ever

   © 2003 Lion Music

Here is a band I wasn't too familiar with, but recieved a promo and got hooked on. The band embrace a more modern sound sort of like say Rob Zombie or Marilyn Manson, but also have that attitude so prominent in bands such as Guns 'N Roses. It truly is an addictive thing even for 80's fans. There is also a bit of an industrial sounding element ala Prong. Overall, I can't believe that it took me this long to figure out this bands potential. Now I have seen reviews around the net claiming that this band has no originality which I think is crap. There are definite similarities to other artists, but these guys have a cool sound of their own at the same time. What I like about this disc in particular is the catchiness. Some of this stuff is downright addicting. Most of it is instantly memorable. There ia also a bonus videos section of the disc which is absolutely amazing. How would you like videos from each song on the album? That's what you get here. The band has put a large amount of effort into this release and it really shows. Just have the young ones away from the computer when viewing as a couple are a bit risque. As far as my own favorite tracks, I like 'Falling Away, 'Bitch', 'Motivation', 'Now Is The Time', 'Bring It On, 'Another Day Goes By, and 'Burn'. The album is a good listen from start to finish regardless of favorites.

Overall

Another release this year that offers a lot of bang for the buck. 13 tracks of music and 14 tracks of video. The music is very catchy and will appeal to fans old and new alike I think. This is the bands third album and has pushed me into pursuing purchase of the first two discs. Recommended!

For those looking for a good instrumental guitar based album need to look no further than Lion Music artist Anand. Featured on the album also is Drummer Mike Terrana. What I find good about this album is the balance in guitar. On a lot of instrumental albums that are more guitar driven you get a lot more noodling than just good flow. Anand balances this out. He can shred and there's no doubt about it. He offers up some emotional driven numbers as well that showcase a more laid back approach. Then there are tracks that feature a little of both. I really dig the groove in some of the tracks like 'Blind Date'. This track reminds me in the keyboards of Blue Oyster Cult. Have a bit of a funky sound to it. Most of the music is fairly typical of what you would expect from an instrumental release. This album is not as experimental as some and that provides a uniform listen from start to finish. Looking at my favorite tracks, the opener 'A Dirty Mind Is A....' is a great way to start and sets the tone. I mentioned 'Blind Date' already and also dig 'Intimate Dance' with its visual tone. 'Get Laid' is one of the rockers on the disc with it's heavier rhythm work. 'Disillusioned' is a great atmospheric track that displays some good tempo change. 'The One' offers a different angle with some acoustic work including piano that starts light and picks up from time to time in tempo. A definite good listen.

Overall

A definite recommend to fans of instrumental work. The compositions are great sounding and the musicianship is very good. Not too flashy and provides good balance between shred and flowing guitar work. A great up and coming musician that will definitely be worth watching in the future. Good stuff!