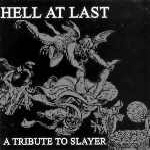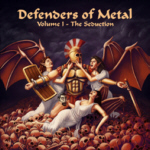 Hell At Last-A Tribute to Slayer

© 2003 Oracle/DMG-Direct Music Group

Defenders of Metal-Volume 1-The Seduction

                            © 2003 MIB Music

As I go back into my past history of listening to Metal, no other band has shown the consistent intensity as Slayer. They have always done it their way and never really cared what people said along the way. The band have continued this trend through modern days gaining fans along the way and influencing many bands which leads to the point of this album. More intense bands paying their tribute by performing their favorite Slayer tunes. I would say the high point of this album is the track selection. While I like most of Slayers catalog, I am definitely more partial to the early years. There is a good majority of those days on this album. So how well are the songs covered you might ask. Pretty well overall. I am not a fan of what some call 'cookie monster' vocals and there are a few, but musically, I think the bands pull it off pretty well. There are 12 tracks on the album and a list of my favorites would definitely include 'War Ensemble', 'South Of Heaven', 'Evil Has No Boundries', 'Raining Blood', and 'Black Magic'. I guess you can tell I meant what I said about the earlier stuff.

Overall

Not a bad release overall, just not gonna appeal to everyone. There is a definite following of Death style metal and that is what I believe most of the artists on this release to be. You get the growly vocals and some intense music.  This will appeal to fans of that genre as well as some Slayer fans as well.

Another compilation for you to check out. Upon listening to this one I immediately when back a few years and thought of Northwest Metalfest. Some of you may remember that release. It was a compilation of bands from the Northwest obviously. Well, think of this as a modern day Northwest Metalfest. Some very good talent and there are a bunch of them here. This compilation features bands from the USA as well as abroad. What makes this album so consistent throughout is the style of metal on it. From Jester's Moon to The Prowlers. You have Antares and Rapid Fire from Poland. The one thing they all have in common naturally is the power metal sound. It's kind of old school and I think I personally liked about everything I heard. As far as the tracks themselves, there are alot. 18 total giving you alot of bang for your buck. Another unique thing about this release that is worth mentioning is the band Dr. Mastermind. The band features Matt McCourt who I guess really is Dr. Mastermind and fronted the power metal act Wild Dogs at one time. This is your chance to check him out.

Overall

This is a very cool compilation and with the title, it sounds like there's more to come. Solid metal from a variety of acts from around the globe. MIB Music has been turning some good stuff including the recent Jester's Moon disc which is also worth checking out. Definitely give this a spin.