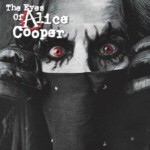 Alice Cooper-The Eyes Of Alice Cooper

                     © 2003 Eagle Records

The original shock rocker returns with another dose of rock served only the way he knows how. Alice Cooper without a doubt has been an influence on many through the years and with his latest offering, he shows why. There is alot to like with this album. I feel that Cooper has returned to his sound of long ago in a way. There is a little bit of a punkish sound here and there, but overall I feel the album leans more toward his late 70's or earlier 80's with a bit of a modern edge due to todays technology. The album has a good feel in terms of attitude. There is some horror elment as one would expect from Alice. There are also some very good lighter tracks such as 'Be With You Awhile' and 'The Song That Didn't Rhyme' that have a melodic overtone. Another thing worth mentioning is the quality of Alice's voice. He sounds fabulous on this release. His voice hasn't lost much with age and I feel that he sounds better then he has in a while. This release allows Alice to shine as he did in the earlier days of his career. He has a good band that make the release sound like a band project. Solid effort from all for sure. Some of my other favorite tracks include 'What Do You Want From Me', 'Novocaine', 'Bye Bye Baby', 'This House Is Haunted' which is the obvious horror track in the vein of 'Steven' or others of the like, 'I'm So Angry', and 'Backyard Brawl'.

Overall

A very solid effort from Alice Cooper that showcases his staying power and appeal to fans of different era's. The vocal work is great and as mentioned before, this release has an overall band feel which adds to the quality. The music is enjoyable and almost has a classic feel with a modern guitar crunch. If you like Alice especially his great songwriting, this one is a no brainer. Highly recommended!

Baloney Ponyz-Baloney Ponyz

       © 2003 Baloney Ponyz Music

What a great name huh? You kind of figure you know what you are gonna get with these guys and you are probably not too far off the mark. The Baloney Ponyz are definitely gonna give you a dose of the good old stuff, you know, the eighties hard rock sound. You are also gonna get some of the new stuff that is cool as well. As a matter of fact, the opener reminds me a bit of Saliva who I dig alot. 'Get Off' is more like Saliva's second album 'Every Six Seconds' especially in vocals and attitude. After that though, things change a bit. The album shows a fair amount of diversity.  The next few tracks are just straight ahead rockers. We get to the track 'On My Way' and the tempo slows a bit which is cool and very reminiscent of some of my favorite eighties albums. At times the band reminds me of Lynch Mob and at others of maybe a heavy version of The Black Crowes.  One thing is for damn sure, these guys sound great, have the quality and style people have been looking for for a while. The bound comes across sounding very confident which adds to the quality of the release. Some of my other favorite tracks include 'Low 'N Lonely', 'The Earth Is Chokin'', and the rocking closer 'Cold Cocked' which is my favorite of the disc. Great guitar grind and vocal work. A real barn burner!

Overall

I know there has been alot of fans just waiting for the good old days to return. While things may never be the same, it is great to know that there is still some dedication to the sound and style we once loved. Baloney Ponyz are definitely one of the better acts I have heard in a while churning the melodic rockers out. Musically, the band is tight. The attitude is definitely evident and the band delivers a fun ride start to finish! Definitely keep your eyes on this band. They could make some real noise in the future!