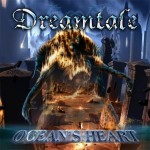 Tarot-Suffer Our Pleasures

       © 2003 Spinefarm Records

Dreamtale-Ocean's Heart

     © 2003 Spinefarm Records

Tarot have quite a history to this point and the good news is that it is continuing with their latest release 'Suffer Our Pleasures'. It wasn't really clear of the band was actually defunct or not, but after 5 years and some good negotiations, we get the end product. Not being as familar with Tarot as maybe I should be, but with this new album, I like what I hear. A whole lot actually. The album is more traditionally based in metal and has a punishing low end which makes it awesome. The other thing that is apparent is the catchy instantly memorable nature of most of the music on the disc. You know this album is gonna be good from the beginning with the opener 'I Rule'. This song makes a serious statement right away and really sets the pace. From there the album pretty much maintains a good hard driving tempo with a few moody elements such as in the track 'Rider of the Last Day'. The band utilize a perfect amount of keyboard to enhance the music and this track shows my point. Some of the other tracks I dig include the lighter and moody 'Of Time and Dust', 'Pyre of the Gods', 'From the Void', the quick paced 'From the Shadows' and the closer 'Painless' which has the coolest vibe in my opinion. An acoustic based track with a bit of attitude.

Overall

There is definitely a reason I chose this album as an album of the month. It's a great listen from start to finish delivered by a veteran band. I really like the vocals on the album as well. The vocals add another notch of intensity all by itself. This album comes off sounding very solid and comes highly recommended!

Spinefarm truly has an amazing roster. Dreamtale is another band I had never heard, of but was definitely impressed with. This album for me was a grower. I listened to it once all the way through and thought it was decent. Upon a second listen it really propelled itself into a great album. There is a good storyline and the music tends to be visual to that story. You have very good musicianship on some very good songwriting. The album to me is a melodic speed metal type of offering. It's similar to alot of the stuff you hear coming out of Germany. Not to say this band is just another clone either. They definitely have a Finnish feel to them for obvious reasons. The music tends to flow well from track to track with intensity changing depending on the subject material at the moment. At times the band reminds me of Stratovarius. Tracks like 'Chosen One' and 'Fools Gold' definitely fit that mold. There are some great melodic numbers such as 'Tears'. This track is crunchy but has some very cool choruses that enhance the melody. This song also has dual vocals, male and female, that definitely set a visual tone if you follow the lyrics. Some of my other favorites include 'Angel Eyes', '200 Men', 'My Only Wish' and 'Return To The Sea'.

Overall

Another very worthy effort offered from Spinefarm. The band release their second effort and it's a beauty. These guys will be compared to other Finn's such as Stratovarius or Sonatica Arctica. There is alot of substance here and the album is delivered well. Not sure about a domestic release, but if you dig melodic speed metal, this one's worth the effort to track down.