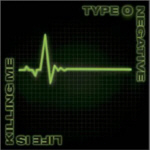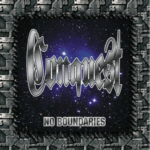 Type O Negative-Life Is Killing Me

            © 2003 Roadrunner Records

Conquest-No Boundries

      © 2003 Conquest Music

You know... I thought these guys were thinking of breaking up. Well, I'm glad they didn't. They have just dished up there best album since 'Bloody Kisses' or 'October Rust'. What I find interesting about this release is the catchy nature of the tracks on it. I'm not just talking about one here or there either. Most of them will really surprise the Type O fan. Kind of what you get is The Beatles on downers with a bit of punkish licks and attitude meets the goth nature. It's quite the mix to listen to, but it definitely is very entertaining.... and Type O Negative. The music is pretty uptempo if you listen to tracks like 'I Don't Wanna Be Me', 'Todd's Ship Gods (Above All Things), 'I Like Goils', and 'Angry Inch'. Not to disappoint the faithful you get tracks such as '...A Dish Best Served Coldly', '(We Were) Electrocute', and 'Drunk In Paris' which all display that atmosphere known in the past. You know, heavy vibe with added background depth. The music on this new record is consistently better than the last release or two and should make the fans happy. The lyrics and subject material are still true to form with that familiar Type O feel. I would also like to point out that Peter's vocals are really good on this release with him covering a few different areas with his vocal power.

Overall

I've liked most of this bands stuff in the past. There were some really cool moments on 'World Coming Down', but this release really hits a home run in my opinion. It's almost like this negative band has put a positive spin on the whole thing. Just don't tell anybody because they work hard on being negative. Very fun release. Recommended!

With the ever changing climate in the music industry, it is pretty nice to have a band come along that knows how to get the job done the old school way. St. Louis Metallers Conquest are one of those bands. This band delivers a really cool power metal sound that would make the late 80's proud. When I say late 80's I'm thinking more on the lines of Testament or bands like that. Conquest have really captured the moment with their new release 'No Boundries'. A platter containing 9 tracks and a live segment consisting of three tracks. As far as the studio material is concerned, it's pretty solid stuff. I think the music is pretty consistent in terms of quality and will appeal to traditional metalheads. The sound of the album doesn't date itself however which is cool. Some of the tunes that grabbed me include 'Ruin my life', 'Back against the wall', 'No mercy 9/11' which is exactly what you would think, 'Nightmare', and 'Take'. The live material sounds good and is all set in one track at the end of the album. Gives you a feel for the bands live experience. I really do dig Derrick Brumley's vocals on this disc. He delivers it exactly the way you would want it when it comes to power metal. Nicely done.

Overall

Another great metal release from a pretty solid band. As the old bands go it's always nice to see new acts on the horizon who can get the job done and this band definitely classifies. If you like it heavy with that familiar old school attitude...this one's for you.