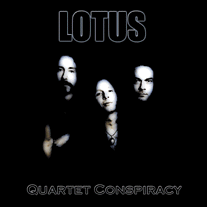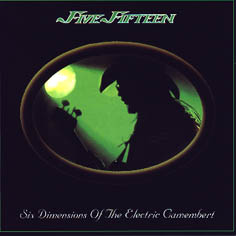 Lotus-Quartet Conspiracy

  © 2000 Record Heaven Music

Five Fifteen-Six Dimensions of the electric Camembert

                           © 1998 Record Heaven Music

So you are in the mood for some classic sounds?? If you dig those chunky Sabbath rhythms and just need more, look no further than Lotus. 'Quartet Conspiracy' features Brian Robertson of ex-Thin Lizzy fame playing lead guitar.

The album is very consistent and sounds great thanks to the production efforts of Robertson. The style is very much in the heavier side of the seventies which gives it a retro feel. Young bands trying to mimic the sound of the seventies could learn a thing or two from this band.

The album opens with one of my favorite tracks 'Eyeball' that sets the tempo of the album. A mid-tempo rocker that has very cool guitar interaction. 'Blocking out the sun' has that familiar feel to it. 'Nauseous' picks up the pace a bit with a faster tempo and a great groove. For fans of the psychadelic feel, 'The Oriental Fog' will satisfy. Very moody elements and tempos in the Led Zeppelin vein with some wild percussion thrown in for flavor. 'Puzzle of Confusion' returns to the more mainstream followed by the softer side of the album with 'Butterfly effect'. This track is very cool with it's background arrangements that enhance the sound. This track is very reminiscent of the mellow side of classic rock. Definitely a fav of mine from this disc. The next 4 songs display the consistency mentioned earlier. Straight forward classic rockers. 'Genetic Jesus' closes the album with a taste of Mountain style rock and roll.

For the fans of good guitar rock in the classic vein, this album should get your attention. Give it a spin.

When I recieved this disc, I also recieved some singles as well. I remember popping one in and liking immediately what I heard. I remember hearing the cover of The Who's 'Baba O'Riley' and my jaw hit the floor. Not only was it live, but was downright incredible! This band is very seasoned and are amazing musicians. Back to the review on Six Dimensions....

The album opens with 'Innocence is no excuse' that has that groove that the band is known for. Very cool organ arrangements and heavy guitar weave through a very uptempo classic rock style tune. The title track follows in mid-tempo vein. It almost has a progressive feel to it. Very solid track. 'White lines of the freeway' slows the pace a bit and is another one of my favs from this album. Just when you think you have this track figured out, it jumps into a trippy keyboard segment and shifts gears a back. For classic rock fans, 'I don't remember' is included. The band is influenced by classic rock quite a bit and it really shows on this track. 'Another Grasshopper's Holiday' continues the tempo of the album. When I heard 'Wide-Awake dreams and sleepwalking nightmares' I thought of Alice Cooper right away. The track has that dark slower tempo feel to it that Alice made famous early in his career. The track acts as a lead-off to the heavier and very 70's influenced 'The wink of an eye'. This is a very fun track. You will hear many different elements within. I personally heard stuff reminiscent of Yes, Elton John, and Led Zeppelin. Hows that for a mixed plate. The album closer has that cool organ intro with very familiar choruses. 'Once I had a name for this one' ends the album in style and will have you singing along.

Five Fifteen is an awesome band with an amazing knack for writing very good material. The tunes are somewhat classic in nature, but have a progressive feel. I really dig this disc and it comes highly recommended. This band needs exposure in the States. If they had it, I'm sur they would be huge!!