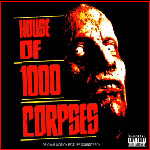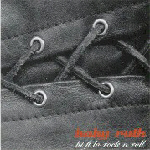 House of 1000 Corpses Soundtrack

                  © 2003 Geffen Records

Baby Ruth-Hi Fi Lo Rock 'n Roll

             © 2003 Baby Ruth Music

I have seen a lot of Horror films in my time. Watching Rob Zombies career to this point, you can tell he is a fan as well so it should come as no surprise that he was gonna do it sooner or later. While the critics are having a bash party with his film, I tend to say who gives a shit. When the critics love it I usually don't. Call me warped. Anyway, I will have to check it out, but at the time of this review haven't. What we wanna talk about anyway is the soundtrack. This disc really has the Zombie flair to it. Lot's of spoken word, a few new Zombie tracks, and some interesting choices in other music for the movie. Slim Whitman? Wow, I don't know about you, but that gives me a sense of a Texas Chainsaw type of creepfest. A bit warped. The sound track also features a ditty by Helen Kane and Buck Owens. The album is worth it just for the Zombie-fied version of 'Brick House'. Gotta check that one out. The new Rob Zombie material is typical of what you would expect from him but with a slight twist. His music really has a feel of theatrics. The spoken word segments are a crack up to listen to although they will probably make much more sense after seeing the movie.

Overall

While I'm not sure if this will really appeal much to fans of Rob Zombie, I think it definitely has its place alongside the movie and will be a necessary companion to the film. Those oddball tracks really give me a sense of discomfort. It will be interesting to see how they are used in the film. If you are a die hard fan, you are gonna want this. Very interesting soundtrack indeed. We'll probably talk more about the film later.

Italy's Baby Ruth are making some noise, especially for being fairly young in their career. While the bands press sheet claims a sound similar to Motley Crue, or Guns 'n Roses, I feel a bit of Rhino Bucket mixed with say Faster Pussycat is a bit closer. This is a good thing too. You might wonder how a combo like that would work, but it does. Not that the two bands are 180 degrees out. Baby Ruth offer up their latest platter 'Hi Fi Lo Rock 'n Roll' on their own production credits. Yep, the band did the knob twistin' and it sounds pretty good. Lot's of punch to it. The element in the bands music that may be a bit similar to the Hollywood rock bands is the attitude. The music gets a bit sassy in it's approach. There is also some good lighter stuff such as 'Right Now', which round the album out. Other tracks I personally like include 'Lovely God', 'Dream of my life', 'Like toys', and 'Dirty rockin'. The band really embrace the sound of the late 80's which will be welcome to fans of that era. You've been asking where it went. Well it's coming full circle thanks to bands like Baby Ruth.

Overall

A decent release from this band who is looking for a deal to get the album more widespread distribution. That will be a bit of a hangup for domestic fans. Trying to get this. Maybe in time they will seal a deal and get their music to a large audience. Good stuff. Keep an eye out for these guys!

Check out the Zombie Media Player here.