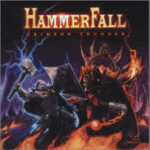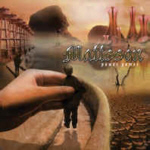 Hammerfall-Crimson Thunder

       © 2002 Nuclear Blast Records

Mattsson-Power Games

          © 2003 Lion Music

One of the fast rising powers of metal, Hammerfall are offering up their latest platter of tunes and this one is gonna catch some attention. The typical Hammerfall sound is intact, but I also really liked the gang vocals that showed up on various tracks throughout  the album. Kind of gives the music an added power feel ala Accept. Hammerfall has the great ability to mix power and melody and I think they have really turned that up a notch on this release. A definite sign of the natural maturation of a good band. The music on the album is still fairly typical of the bands previous releases. The subject material is also in the same vein. Looking at songs in particular, I really dig the opener 'Riders of the Storm' which is one of the more typical Hammerfall tracks, but really gets the blood flowing. Also, other tracks on my list of personal favorites include 'Hearts on Fire', the melodic speed metal based 'On the edge of Honour', 'Trailblazers', the meldic 'Dreams come true', 'Angel of Mercy' which reminds me a bit of something off of the last Iron Maiden album, and 'Hero's Return'. Also on the disc is a bonus track of 'Detroit Rock City' originally penned by Kiss. Sounds true to the original and is a nice addition to close the album out. I think the songwriting is strong on this release and is definitely not gonna disappoint the metal fans.

Overall

Another good release from this great band. Not really changing their sound much, but does have some slightly new elements added in that enhance. If it works well, why change it comes to mind. If you are a fan of metal in general, you'll probably dig this.

There are two things you can definitely say about Lars Eric Mattsson. He is one of the busiest guys in the biz and he achieves great results. Mattsson's latest album is a real stunner. A very progressive sounding metal release that also features Balance of Power vocalist Lance King on vocals. For those unaware, King reminds me alot of a mix of Geoff Tate and Mike Vescera. He really does an excellent job adding his stamp to an already great album. Now I mentioned that this album is fairly progressive which will not be a surprise to fans of Lars Eric Mattsson as this guy really has a strong talent. The album however does have a bit of an edge to it that keeps it from being over-polished. As far as the music, There are eight tracks total with the longest chiming in around 17 minutes in length. This particular track titled 'Beyond the Horizon-Guitar Concerto no. I' is not only a lesson in technique, but a lesson in discipline at the same time. 17 minutes of noodling get's boring, but this track is done tasteful and is worthy of the length. The other tracks really have a certain majestic yet accessible feel. Some of my favorites include 'Open the Gate', 'Victim of Freedom', the lighter 'Chained to my Pain', 'Bridge to the Past' which is just over 8 minutes long, and the fun closer 'Lead me on my way' which kind of has a different feel than the rest of the album and probably is my favorite track on the album.

Overall

This album really comes off well. I really feel that this some of Lars Eric Mattsson's best work. This album has perhaps a bit more accessibilty than his previous efforts. Not to say that from a commercial standpoint, just should sound great to most listeners. I picked this one as the album of the month for Feb. 2003 for a reason. Check it out!